Day 1 of the 30 lipsticks in 30 days Project opens with Benefit Cosmetics Silky Finish lipstick in Frenched.
Benefit Silky Finish Lipstick – Frenched
Frenched is a scary bright RED lipstick in the tube. Just look at it. Its bright without discernable warm or cool tones although I'd say it tends towards the warm.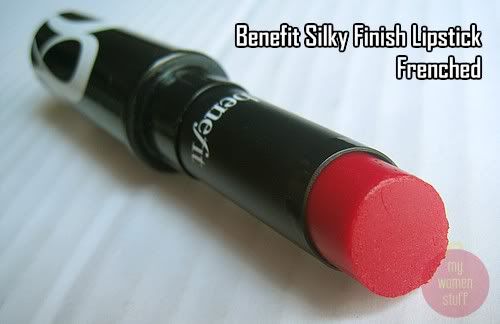 However, I knew right off that Frenched was a red made just for me. Its no secret I love red lippies and Frenched fills that niche, being at one and the same time bright and creamy.
Being a silky finish lipstick, the texture is smooth and silky but it goes on very creamy and pigmented. I mean pigmented… seriously.
It certainly is a colour for the night and promises to glam up any night outfit. Bit too bright for the day, even for me! 😉
Benefit Silky Finish lipsticks are RM73 at Benefit counters and US$18 online. You can read a more in depth review of the Benefit Silky Finish lipsticks and a review of Nice Knickers if you follow the link.
Stay tuned for Day 2 to see NYX Black Label lipstick in Opium.
Stay beautiful,
Paris B