When a cakebox landed on my desk one day, I was very puzzled. Who'd send me a whole loaf of cake for no reason? Especially when I'm not into cakes 😛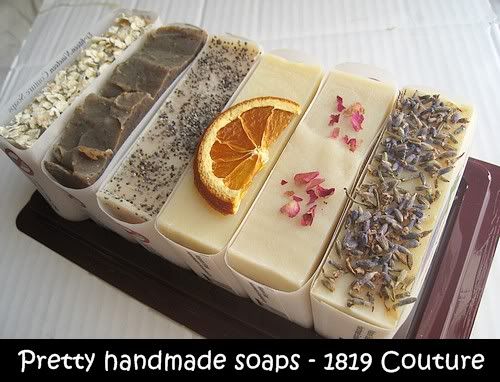 The mystery was solved when I opened it and saw inside a row of handmade soap bars prettily presented. Already the presentation had me! The soaps were from WeiBoon of 1819 Couture Soaps.
I'd never heard of 1819 Couture Soaps but WeiBoon tells me that he's been doing this for a while, selling them from InQBox at 1 Utama Shopping Centre until May 2009. He's now taking orders by email and I was surprised at just how affordable and pretty his handmade soaps are.
1819 Couture Soaps are handmade soaps using quality oils blended with essential oils and herbs and made using the cold pressed method. The soaps smell lovely without that sharp chemical smell and do not contain animal fat, sodium laureth sulfate and preservatives. Above all, I think they are presented very well and make great gifts!

The flavours presently available are:-
Lemon & Poppyseed – Fresh smelling lemon with poppyseeds embeded in the soap. I cut out a piece and I like the slight scrub the seeds provide.
Valencia Orange – Another favourite because it smells so fresh of oranges. My bathroom smells lovely every morning!
English Rose – A fresh light rose scent. Not too musky or powdery. Just nice!
Coffee – Perfect for coffee lovers and for skin exfoliation 🙂 Lovely pick me up in the mornings before your morning cuppa!
Honey & Oatmeal – Smells sweet and good enough to eat! The oatmeal offers some exfoliation of the skin and this one's good for dry skin as it helps moisturise the skin.
Lavender – A top seller and I can see why! Lovely fresh lavender smell – no sharp chemical smell just a relaxing scent that calms you at the end of a long day. My favourite too!
I love that it is labeled "Non Edible – Do Not Eat"! Its such a tongue in cheek way of saying that its good enough to eat but you're advised not to 😉 And the name too 1819 Couture Soaps sound luxurious which belies the price. Each piece of soap is wrapped with a label telling you the soap ingredients and what its for. At the top of each piece of soap is a sprinkling of the key ingredients. Its a lovely touch that is aesthetically pleasing.
I've used them and I find them non drying on the skin. They don't promise to cure skin ailments like other soaps do, but they do smell lovely and feel lovely on the skin and look lovely and for that, I'm giving them a seal of approval because I'm a girl and I love anything pretty that works! 🙂
The retail prices for the soaps are:-
RM9.90 each
RM25 for 3 bars
RM50 for 6 bars with a free gift
Delivery charges within Kuala Lumpur and Petaling Jaya is RM6 but its free for purchases of 12 bars of soap and above. So psst! combine orders with your friends! 😉
Interested purchasers can contact 1819 Couture Soaps at [email protected] for enquiries and to place an order. I think these make great gifts especially since they look good, smell good and are handmade to boot! Um… so those expecting Xmas gifts from me may already know what's in your packages yes? LOL… 😉
Stay beautiful,
Paris B