A month ago, I got my paws on the new L'oreal White Perfect Transparent Rosy Double Essence. Whew! That's a mouthful! So, I'm going to be calling it the L'oreal Rosy Transparent Essence for the rest of the review ok?
If you are familiar with the L'oreal Double Essences then you will be no stranger to this packaging. I used to use the L'oreal White Perfect Double Essence which I rather liked. What you get is a bottle with 2 separate tubes of essence. Depress the nozzle and the pump will pump out essences from each tube which you then mix to activate them and apply on your skin. No rocket science to it 🙂
The L'oreal Rosy Transparent Essence is a new formulation that uses finely milled pink tourmaline gemstones in the essence to promote microcirculation in the skin and to reflect a rosier pinker countenance and complexion. Gemstones? Yes. This is not the first time we are seeing gems being used in skincare – common items used are gold, pearls and yes, even diamonds! But I digress.
The selling point of the L'oreal Rosy Transparent Essence is the reflection of a pink healthy complexion as opposed to a fairer but yellow based or dull skintone. The brightening effect is further enhanced by the Pro Radiance Complex, a combination of Lactic and Glycolic Acids that gently exfoliate skin surface cells to reveal the brighter more even skintone.
Ok I know what you are thinking. Enough of the background check… does it work? Does it make you look fairer, pinker and more radiant?

First off, my usual caveat. I'm as fair skinned as they come so I aim more for an even complexion rather than fairer whiter skintone. I sometimes have uneven skintone or ruddiness and I don't have much of a yellow tone to my skin. However, it has been looking a little dull of late. I have been staying up too late at night catching up on my reading – bad! But Angels & Demons is too good to put down and I needed to finish the book before I caught the movie 😉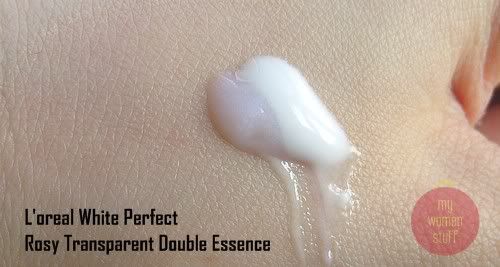 Having used the L'oreal Rosy Transparent Essence for about a month, I've found that it does keep my skintone looking even. Because I don't have obvious yellow tones in my skin, I cannot say whether the milled tourmaline is doing its job to reflect a pinker rosier countenance as claimed. I like the idea of having gemstone powder on my face even if I cannot afford the stone itself 😛
However, I can attest to more even skintone and my freckling or skin pigmentation seem to be under control. At least I don't seem to sprout a new freckle ever other day – the perils of having fair skin. That said, my existing freckles or pigmentation don't seem to be getting much lighter. They also aren't getting darker which means something's working I guess. 😛
One other effect I have noticed after using this L'oreal Rosy Transparent Essence is slightly smoother skin. I attribute this to the Lactic and Glycolic Acids since those ingredients are usually for gentle exfoliation without scrubbing. So, in the morning, my foundation goes on better. I however will not recommend you use this essence together with the lovely Kiehl's Ultimate White Exfoliator. That would be way too much exfoliation!
I like the texture of this rosy double essence. Its light and goes on the skin very light and absorbs quickly. Its a little heavy to be used together with another moisturiser in the day yet not heavy enough to be used by itself at night. A very delicate balance indeed. I use it after toner and under the H20+ Face Oasis moisturiser because its lighter than other moisturizers I have.
There is a fragrance but I'm not fussed. It did not break me out and I use it day and night for maximum effect. In the day, you are recommended to use a sunscreen with this product. This is due to the presence of lactic and glycolic acids. If you don't use sunscreen, then you may even experience more pigmentation. However, I expect everyone to use sunscreen anyway at all times, so this shouldn't be anything new 🙂 If you are one of the very few who would rather now wear sunscreen in the day, then only use this essence at night so you don't cause more damage to your skin.
A 30ml bottle of the L'oreal Rosy Transparent Essence retails for RM62.90 but since it's a pharmacy brand, it goes on sale often. If your skin can get along with L'oreal skincare, this new Rosy Transparent Essence is worth a shot. If you are allergic to lactic and glycolic acids or sensitive to L'oreal products in general, then you might want to be a little wary. Me? I'm lovin' it! 🙂
But there's one thing I dislike – the pump nozzle. For some reason, when I depress the nozzle in the middle, the white part squirts out easily but the pink essence doesn't come out unless I angle my finger towards the pink essence. Its quite irritating because I can forsee one side finishing faster than the other which is what happened to my previous double essence 😛
Pros: Affordable, Light texture, Makes skin feel smooth, Skintone looks more even

Cons: Does not "whiten" or lighten my pigmentation much, Nozzle could do with some work, Potential for one side to finish faster than the other.
What? No Cat Eyes?
Goodness! Is everyone too shy to showcase their cat eye looks? Come on, don't be. I will try to put up a compilation over the weekend and I'll show my own imperfect look even if no one else would like to share. 🙂 Feel free to email me your look if you haven't already.
On a very happy note, I'm going for Star Trek tonight and Karen of MBB says there are cat eye looks galore in there – woot! 😀 I'm a huge Star Trek and Star Trek: The Next Generation fan (Jean Luc Picard – drool……. and I had a bit of crush on Data the Android 😛 Geek = me). Less so Voyager and Enterprise because I kept missing episodes of the latter.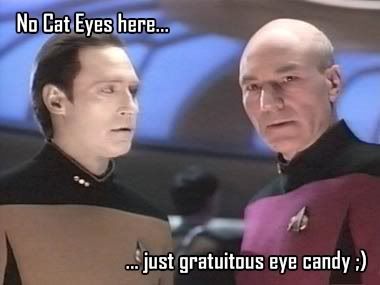 Methinks Data could use some of the L'oreal Rosy Transparent Essence
Anyway, let me wipe off my drool and get through the workday so I can ride the Enterprise tonight 😉
Make it so!
Paris B