The opening of Kiehl's 3rd store in Malaysia reminds me of another 2 products I've tried from the Kiehl's Ultimate White line – the Cleansing Cream and the Intensive Whitening Essence.
Kiehl's Ultimate White line smells yummy!
Before I get into the products, let me just say that the Kiehl's Ultimate While line smells absolutely delicious. The products have a subtle scent of plums and citrus that is refreshing and soothing. Nice when you apply it and lie in bed with that fruity smell wafting around. I like it!
Kiehl's Ultimate White Cleansing Cream (RM95)

The Cleansing Cream is to me a decent cleanser. Again, I don't believe anything can whiten lighten or brighten if you're going to wash it all off almost immediately so I won't put much score by the whitening or brightening properties. Perhaps if used together with other brightening products it might make some difference.
I always use a makeup remover first or cleansing oils so this is the 2nd part of my cleansing routine. On other days when I don't use makeup, the cleansing cream removes dirt and leaves my face feeling clean.
I only use very little as it lathers up very well. It can feel a little drying after cleansing though so its always essential for me to tone and moisturise after that. At RM95 for a 150ml tube that can last me … well pretty much forever… I think its a pretty decent item. Its not a "must have" if you ask me though. I reserve that title for the Ultimate White Exfoliator! LOL…
Kiehl's Ultimate White Intensive Whitening Essence (RM190)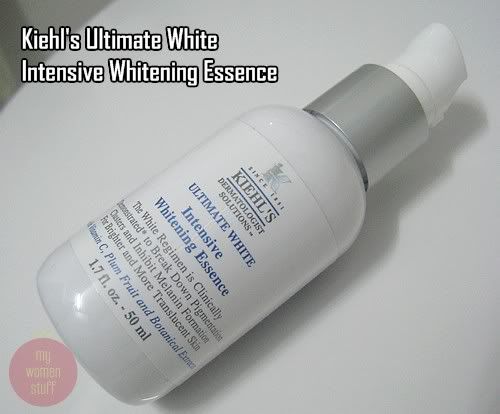 The Intensive Whitening Essence promises to brighten the skin and lighten existing dark spots. I can testify to some brightening. The essence pumps out a pearlescent white that also smells quite delicious. Perhaps its the pearlescent qualities of the essence, but my skin does look slightly brighter and more even almost immediately. I did not notice visible lightening of dark pigmentation over a month's regular use, but neither did I sprout any new ones and the lighter freckles seem to be under control.
You can see the pearlescent sheen to the essence in the swatch below. Its slightly thick for an essence and feels rather like a lotion. I use it under a light moisturiser only because it feels too thick otherwise.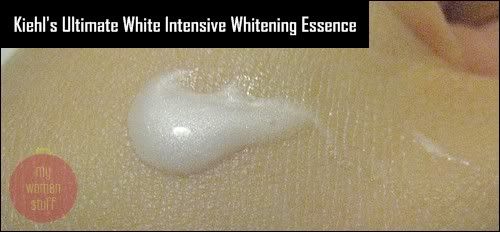 Reading the properties of this Intensive Whitening Essence and what it promises to do, I felt a sense of deja vu as it sounds pretty much like what the Lancome Blanc Expert Spot Eraser does.
Both products state that they break down pigmentation clusters and inhibit melanin formation for brighter more translucent skin.
The difference is the price – RM190 for 50ml vs RM315 for 30ml. I'm not quite surprised since they do come under the same parent company. I'm not saying its the only difference – of course ingredients differ too as may effectiveness 😛
I reckon any longer term effects need a longer term use and I'd actually prefer a slower effect rather than an instant one because anything that whitens my skin instantly must be bleaching it like clorox! 😛 I might consider a repurchase when I run out but a 50ml bottle can last you at least 3 months with daily use.
Did I mention it smells absolutely yummy? 😛
And MidValley Makes 3!
Did you know that you can now get Kiehl's in MidValley Megamall? Yep! No more trundling down to 1 Utama or Isetan KLCC or Pavilion Kuala Lumpur to get your Kiehl's fix! Kiehl's 3rd store in Malaysia is located on the Ground Floor near Vincci towards Jusco. Its quite small but well stocked so look out for it!
In line with the official opening of the new Kiehl's store, Kiehl's had commissioned 2 specially designed canvas bags by 2 local artists and in keeping with the art theme, the guest of honour was none other Dato' Mohd Nor bin Khalid (more popularly known as Lat)! They did a Kampung Boy art print bag just for him… aww… Proceeds of the sale of the bags (RM20 each) go wholly towards Yayasan Anak Warisan Alam (Youth Environmental Heritage Foundation) (yawa.org) to encourage environmental awareness among the young.
There was Yerba-mate tea (pronounced "Yah-ba-mah-tay") on hand specially flown in from South America – tastes a little strange – a little sappy but luckily not herby. I'm not into herbal teas but this one was nice. Yerba-mate also happens to be the key ingredient in one of Kiehl's skincare lines for normal to normal-oily skin. I'm quite fascinated by this line so I might check it out next time I'm in the store. There were just too many people the day I was there.
There was also candy-floss which I haven't eaten since I was about 6 so I indulged 😛 Here I am threatening Mr. Bones the Kiehl's mascot with green floss – and here I am defacing Mr. Bones with graffiti! I chose a rib because… well… Woman was made from Man's rib wasn't she? LOL…. 😛
The opening ended with signed polaroid shots of Beetrice and me which will be placed on the Kiehl's "wall of fame" in the store <- My words not theirs teehee… So look out for it next time you're there.
What's your favourite product from Kiehl's? Mine remains firmly the brightening exfoliator. The #1 Lip Balm was a bit of a bummer for me but if you like it, pipe up and tell me I'm making a mistake! 🙂
Stay beautiful,
Paris B