A couple of years ago, my regular line of skincare was the Biotherm White Detox line. I loved it! The products were gentle and although it wasn't "whitening" in the sense of the word, it was very nice. Then I got into other skincare and I left Biotherm.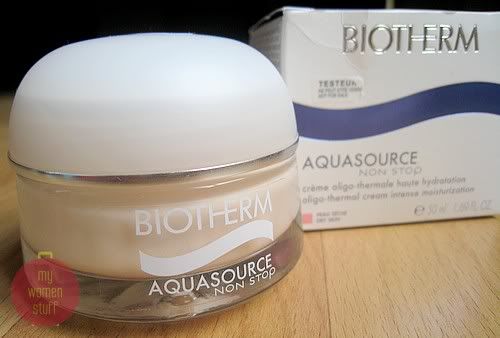 Recently, I was presented with a tub of Biotherm Aquasource Non Stop cream for dry skin. Now, I have been diagnosed with dry skin so it was worth giving this cream a shot. Partly due to the fact I'm a mad scientist and happy to experiment and partly sold by the claims of 5000 litres of spa water in one bottle.
The Aquasource Non Stop cream for dry skin comes in a heavy glass tub of light pink cream. The fragrance does not sit all that well on an initial sniff but it grew on me.
The cream is on the thick side but applies quite easily. One 50ml jar contains the concentrate of 5,000 litres of spa water and it promises to quench your skin and provide it with 24 hour hydration.
Unfortunately, it broke me out. 🙁

To be fair, it only broke me out on the areas where I was not exactly dry – my forehead and chin. After a couple of days using it only at night, I noticed that my chin was getting spotty and I was getting a lot of clogged pores. The Biotherm Aquasource was the only new introduction into my skincare regime so I stopped it and reverted to my previous regime. The spots cleared up.
A week later, I tried it again and bam! they all came back! I persisted for a week but to no avail – it just got worse. So I've stopped using it for now.
However, on my cheeks which are my predominantly dry areas, I experienced no breakouts. In fact, my skin there felt moisturized although it takes quite a while for the cream to sink into the skin.
This experience teaches me a couple of things:-
When a product is for dry skin, only apply it where I have dry skin or risk a breakout
My cheeks are really dry compared to the rest of my face so I have to work on that area
So if you have dry skin all over, the Biotherm Aquasource Non Stop cream for dry skin will work for you. Otherwise, you might have to try the lighter version in the blue cream or a lotion.
I may give this one to my Mum or keep it for use on my neck. That's where everything that doesn't agree with me goes – hmm…I guess I'm taking care of my neck too! 😉
A 50ml tub of Biotherm Aquasource cream for all skin types retails for RM140. Not super pricey if you get it to work for you.
Pros: Works for dry skin, Glass pot looks luxurious

Cons: Did not agree with my skin, glass pot is not travel friendly
Stay beautiful,
Paris B