When my grandma was hospitalized a few months ago, I found myself shuttling back and forth from the hospital almost every day. While at the hospital, and to avoid having so many people in one ward, I'd sometimes linger in the corridors reading the various signs around the hospital. One that caught my eye and which I've put into practice ever since was a diagram showing the proper way to wash your hands.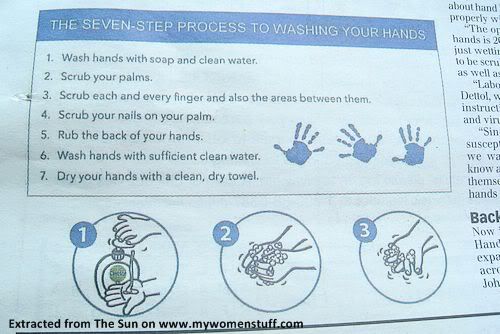 The proper way to wash hands
The proper way to wash your hands takes a little time but the effort is worthwhile.
Run clean tap water over your palms and use hand soap.
Lather well.
Rub your hands vigorously for at least 15 seconds.
Scrub your hands, fingers, palms and nails.
Do not forget the back of your hands.
Rinse with clean water until all soap is washed off.
Dry hands with a clean dry towel or disposable towel.