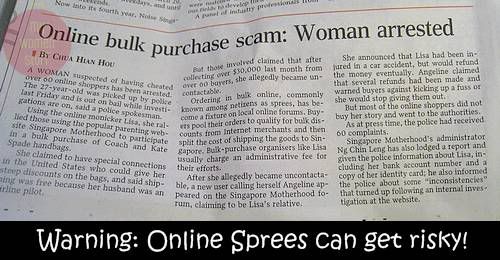 Personally I have never participated in an online spree. Not unless you count the ones I organize or the ones my friends that I know and trust organize. But join an online spree from a forum? Never because I'm a bit paranoid like that.
An online spree or an online bulk purchase is usually where one person places a large online order (usually to save on shipping fees or to get wholesale prices) on behalf of a number of different spree participants. Payment is usually made up front and when the order is received, the person running the spree will distribute and send out the items ordered to the different participants.
All very good if it is well run in an orderly fashion and if items are received in good order and condition and the person running the spree is organized. That makes it a win-win situation for all. Not good if you meet someone disorganized or who just disappears after a while, usually after taking your money. Since orders from overseas can take a while to get in, sometimes up to a month, it can be a nervous waiting process for both spree participants and person running the online spree.
However, I know of many who do participate in such online sprees, usually to buy items online from other countries so I thought a reminder is timely. I came across an article in a Singapore newspaper a little while ago which serves as a warning (article above).
In that incident, a lady set up an online spree purportedly to bulk purchase Coach bags from the USA at a purported discount. After collecting all the money, usually paid into bank accounts, she went incommunicado, failing to answer emails and refusing to take phone calls. It was not until the participants lodged a police report that the spree organizer was arrested.
So for spree participants, there are a number of things you can bear in mind when planning to take part in an online spree:-
When something looks to good to be true – it usually is. If it is for branded goods that are purportedly heavily discounted, be wary. If you don't receive a fake you'd be lucky to receive anything at all. Ask your questions but if you start getting evasive answers, stay away.
Check the reputation of the spree organizer. Most online forums have a way of checking the authenticity or veracity of a particular organizer. If the positive comments outweigh the negative comments, then they might be more trustworthy. If many people have reported good experiences with them, then its usually safer. Its not to say that they won't turn coat, but the odds are less.
Check how the organizer deals with problems. Sometimes an order gets messed up or a wrong product is received. Check feedback to see how the organizer dealt with the problem. If you have someone that takes a very aggressive stance, I'd stay away too. But that's me.
Check how organized the organizer is. Did they send out their items quickly? Did they send a confirmation that they have received your payment? Did they let you know the products have been received and when you should expect to receive your items? These are something an organized person would do so see if there are complaints along these lines. I'd be wary of someone who fails to communicate because it might mean they have disappeared off the face of the earth… with your money.
Have you participated in an online spree before? Have you had mostly good experiences or have you had any bad ones? Do share any tips that you feel online spree participants should take note of.
Stay beautiful,
Paris B