You can tell Summer is here when brands start putting out Bronzers and have collections with the word "Bronze" in them. Bobbi Brown is no exception with the new Bobbi Brown Illuminating Bronze Collection containing a very new item – Shimmerbrick for the body!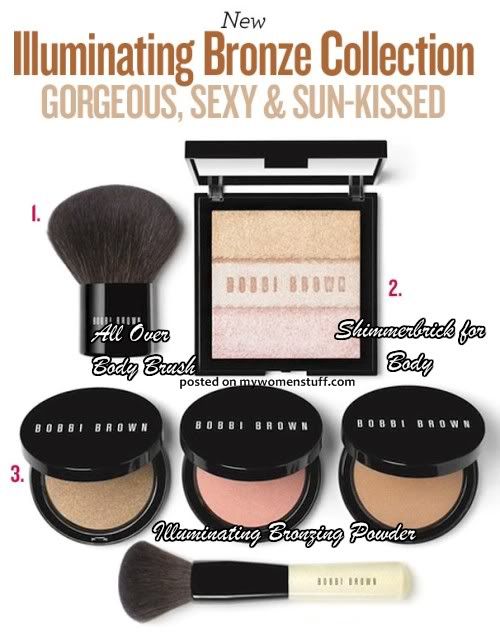 The new items in the Bronze Collection are:-
All over Body Brush (US$85) – For the Shimmerbrick for the Body. It looks rather like a large Kabuki brush and I'm sure would feel lovely on the skin.
Shimmerbrick for the Body (US$75) – I nearly fainted at the price! It is Limited Edition and features 3 shimmer stripes like the shimmerbrick for the face. It is for an all over glow on your body. Good if you like body highlights though I'm not sure when I'd ever use it.
Illuminating Bronzing Powder (US$33) – There are 6 bronzing powders in this collection – Maui (pink coral bronze), Barbados (warm deep bronze), Bali Brown (golden bronze), Bahama (Deep Golden Bronze), Aruba (light golden bronze) and Antigua (light pink bronze). Named after some lovely islands and beaches of course.
Bronzers aren't really my thing but Maui sounds nice. From the colour description I reckon it might even work as a blush. We'll have to check it out once it gets here. I'm not sure when though.
You can read about the collection on the website here.
So tell me, would you wear the Shimmerbrick for the Body? Where would you wear it to?
If I do wear it, I'd likely just use it when I go out for dinners or when I know I'll have soft light reflecting off my shoulders and decolletage 😉 You?
Stay beautiful,
Paris B