A couple of months ago, I came upon an ad in the Singapore Straits Times paper for a Maybelline mascara with a comb. I was intrigued. It reminded me of all those Japanese mascaras that come with a comb unlike the traditional brush. I wondered how it worked or how it'd fare but try as I might, we couldn't get it here in Malaysia.
Well we will now! I have since seen it in Watson's retailing for RM33.90 The mascara comes in a pink and black tube – pink isn't me sorry but I'd forgive that to see how the comb wand works. The comb wand looks like a erm… comb and functions rather like a erm… comb. Imagine if you comb your lashes as you will comb your hair. That is what the Maybelline Volum' Express Hypercurl Cat Eyes mascara, feels like. It takes some getting used to that I can say – no more wriggle at the root but gently comb up the lash.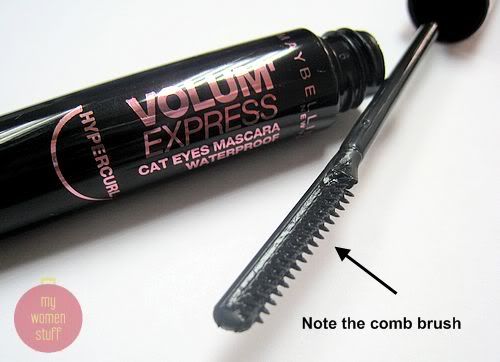 Unlike other Maybelline mascara I've tried, the formula does not feel as heavy on my lashes.
But importantly, cat eyes! Do you get the cat eyes effect?

Well, if by "cat eyes" effect they mean longer looking volumized lashes, yes, you do because the comb separates your lashes while coating your lashes with mascara. You get a long lashed effect and volumized lashes. Judge for yourselves below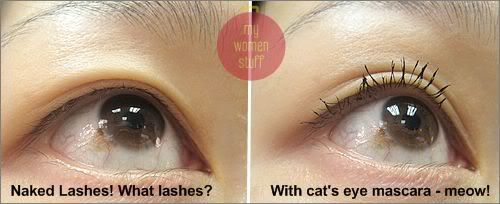 Apologies for the scary looking eye pic 😛
I applied the mascara without first curling my lashes. There is a curling effect but it can be enhanced if you curl your lashes first to achieve the 75 degree curl as claimed.
What is nice is that it is lovely for lower lashes! I usually have a lot of trouble applying mascara on my lower lashes because the big brush heads would cause smudging But the comb does it very nicely indeed. I did not even need to tidy up my look!
Do note that if I were to add on lashings of dark eyeliner and strong eye makeup, and pile on the mascara we might get the vavavoom effect to mesmerise everyone with my alluring cat eyes. In fact I'm going to try it soon and I'll post up a picture later 😀
[note]
Tip: When your Maybelline Cat Eyes mascara expires or dries up don't throw it away. Keep the comb wand, wash it out and reuse it as a lash comb. Its awesome! I got this tip from a Maybelline insider and sometimes when I use other mascara, I wipe off the mascara from the Cat Eyes Mascara comb and use it to de-clump and separate my lashes. Beautiful kitty!!
[/note]
The formula is supposed to be waterproof which it just manages to pass the test with less smudges throughout the day; and yes it cleans off quite easily with any regular makeup remover.
If you're a curious cat by now, Maybelline Volum' Express Hypercurl Cat Eyes Mascara will retail at all pharmacies and Maybelline displays for RM33.90 or go to the Maybelline Cat Eyes Mascara site for more info and tips on how to get desirable lashes. If you want to test it out in person be at 1 Utama on 17 May 2009 for the beauty fair where you stand to be a part of history as Maybelline attempts 1500-1600 simultaneous makeovers … or so I'm told! Do not ask me how it will be done – that means 1500-1600 makeup artists? Are there that many around?! That also means at least 3000 people in one place! *swoons* I reckon they mean 1500-1600 makeovers in an hour or something less dramatic. Still, it might be interesting and I might be there at 10am so I'll see you if you are 🙂
Hello Kitty kitty kitty…
So tell me – what do you use to create a cat eye look? I plan to use lots of black eyeliner winged out at the outer edge, black eyeshadow near the lashes and taken upwards, silver, grey or tawny colored eyeshadow on the lid and to highlight. Of course, not to mention lashings and lashings of mascara! Share your cat eye look with me on your blog or if you want to submit a picture, email me at parisb [at] mywomenstuff [dot] com by 13 May 2009 and I'll upload a gallery in a week's time together with my own look. 😀 It'll be fun, come on!
Stay beautiful,
Paris B
p/s Cat Eyes Mascara is not mascara for cats! 😛