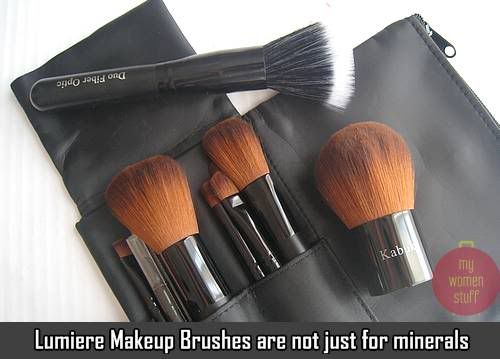 We love makeup brushes, yes we do!
We love them even more when they are soft, do the job well and are affordable! Lumiere Cosmetics promises all this with the latest line of makeup brushes distributed in Malaysia and Singapore by LovingMinerals. Prices shown are as per Loving Minerals and Lumiere Cosmetics websites so no, my math isn't all that bad 😛
Lumiere Duo Fibre (Skunk) brush – RM86 (US$24)

Hands up those who know why the duo fibre brush is also called the "skunk" brush. No prizes for guessing but the answer is because its black and white not because it smells like one ok? 😛 The white longer fibres are more sparse and help apply cream blush or strong colored blushes lightly to stop you from looking like Bozo the clown.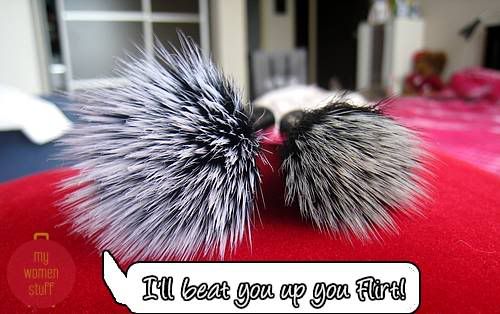 The Lumiere Duo Fibre brush has been compared to the MAC #187 brush but since I do not own the MAC I cannot compare. I do own the Flirt! skunk brush which is a skimpy piece of work next to the Lumiere. If Flirt! and Lumiere were to meet in a dark alley somewhere, Lumiere would beat the living daylights out of Flirt with claws unsheathed ala Wolverine! LOL…
I use the duo fibre brush for blending in liquid foundation and cream blush and for pigmented powder blushes too. Works a treat and the super soft bristles do not scratch nor poke me. I also used this brush with my Dior Rose Brazilia bronzer blush for a more flattering softer finish.
Best, because its synthetic, it washes easily too! You can also use the duo fibre brush for applying pigmented blushes or loose powder. The sky's the limit! I love my Lumiere Duo Fibre skunk brush! *hugs it to death* I think I need another just so I can use one for powder/foundation and one for blush 😛
Lumiere Kabuki brush – RM65 (US$18)

Incidentally, I reviewed the Lumiere Kabuki brush previously for those who remember so go read it. Its good – nuff said!
Lumiere 9 piece brush set – RM90 (US$25)

Remember my Momo Minerals brush set? Do not despair that you can't get it because you can just as easily get the Lumiere 9 piece brush set! It comes in a similar looking pouch and there are 8 … count them! 8 brushes – Powder Brush, Blush Brush, Mini Eye Buki (crease) Brush, Small Concealer Shadow Brush, Spoolie Brush, Flat Angled Liner Brush, Eye Shadow Brush, Thin Liner Brush in a compact carrying case.
The powder and blush brushes feel firm yet soft and the short handles are useful for getting up close to the mirror. I did not actually test the brushes in this set for reasons you will see later. However, the powder brush is actually a pretty good size for a travel set. If you don't already have a travel brush set, or are looking for an inexpensive starter brush set, this would be a pretty good buy. If you have a travel brush set, then this would still be a pretty good buy! 😉 If you already have a truckload of brushes you might not need this one… unless you don't have a good set of travel brushes then you might LOL… I'm evil I am!
All the 3 brushes above are available at Lumiere Cosmetics or at Loving Minerals. All brushes are made of synthetic material and no hairs were pulled from the tails of any animal or pets to make these. Yay!
Synthetic brush hair feels softer than natural brush hair
Since playing around with makeup brushes, I've found that synthetic brush hair always feels softer and smoother next to natural hair. My first synthetic brushes came from The Body Shop (they still do decent affordable makeup brushes). I used to prefer using natural brush hair because they picked up powder and color better than synthetic. I do still feel that way for powder eyeshadows and blush. However, the new synthetic brushes seem to be doing much better these days. For powder blush, I still prefer natural hair brushes – my only exception so far is the Lumiere Duo Fibre brush. For cream or liquid products, its synthetic all the way – its easier to clean!
How about you? Do you prefer natural hair makeup brushes or synthetic hair makeup brushes?
Stay beautiful,
Paris B