What are classic eyes and sexy lips? A study in contrasts of course 😛
For me, a classic eye is one done with a neutral toned shadow colours tempered with black for definition whilst sexy lips call for a red toned creamy lipstick. I used a bunch of colours from Definite Makeup Cosmetics.
Classic Light Foundation
It being a classic sort of look, I kept my foundation light. I did not want something too thick so as to look artificial. I used the Miracle Splash Liquid Foundation (RM125) which is sheer but I liked it because it was light in texture. However, if you prefer coverage, you won't like this. I set it with some loose powder. I'd just as easily use I Nuovi Gelbase foundation for a light sheer look. I didn't do a very good job of concealing but what the hey! 🙂
Classic Eye
So since I was going for a Classic Eye, I opted for something neutral. I used the Classic Luxurious Dazzle Eyeshadow in Sunflower (RM56) which is a lovely shimmer melon peach shade that I think will suit many skin tones. If you're darker, it'll work as a highlight and if you're lighter, you can use it with a lighter shade for contouring the eye area. A very versatile color. I contoured with Starry Night a black matte color that did not go on as dark as I hoped. In fact it went on slightly grey which was a little disappointing. I'm going to put this one to the test together with a couple more black eyeshadows I picked up recently and see which one works best so expect a "Black Eyeshadow Showdown" soon! 😀
Here are a couple of swatches of the products used including Twist n Shout which I can never capture well on camera. C'est la Vie!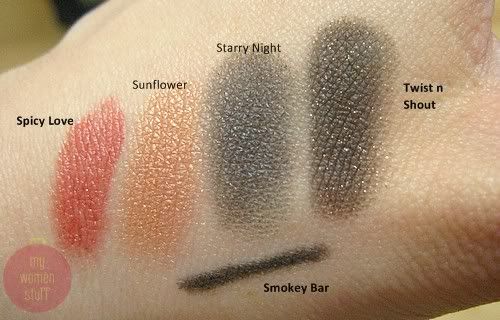 I lined with Backstage Magic eye pencil in Smoky Bar (RM53) a black pencil that smudges well so it makes a good smoky eye look. I do find it a little hard though so I'd prefer to use my Guerlain Kohl pencil next time. Guerlain's still my #1 pencil eyeliner love!
Sexy Lips
Since we were going for a sexy pout, I opted for a red toned lipstick in Spicy Love (RM56). It looked a little coral in the tube but went on a surprising coral-red tone. I might actually amp the lips up more with a redder lippie. I have a couple of good ones I'll be showcasing soon. Red lippies are my thing 😉
To finish off the look, I dusted on Ultra Shy Blush in Summer Peach (RM68) a pretty peach-coral blush with just a tiny bit of shimmer. I thought it might be a little red so I might use a lighter hand next time or try peachier tones like Benefit Coralista or Rose Brazilia or Chanel Tweed Corail; or perhaps something pinker like Maybelline Angelfit Strawberry.
This is a look I'd likely pull out for dinners or some swanky formal ocassion that requires me to dress up. I could do the eye for an everyday look but tone down the lip color for the office. I forsee myself using these 2 eyeshadow colors a lot – they are easy to blend and use and quite mistake proof, plus they last the whole day and then some! Things have been a little hairy at work and its all I can do to slap on the paint in the mornings much less worry about pairing eyeshadow colours.
How would you do a classic eye and sexy lips? Do share in a comment below or in your blog – it'll be fun to see all the different looks 🙂
I'll be a Survivor!
I've got something quite exciting lined up this weekend. I'm going to learn how to survive in the city with Toyota! LOL… Its a short little course to teach us women drivers some skills and tips to survive the cut-throat city lifestyle of driving and I hope to pick up some things I didn't already know. I'll impart some of what I learn when I get back 🙂
I also have a facial to go to on Sunday – ahh… pampering bliss… Its going to be at a new salon courtesy of a free voucher I was given by someone who won a contest at a shopping mall, so its going to be interesting to see how they fare by my exacting standards! If they don't live up to them, well, you can pretty much expect to read about it LOL…
And on the subject of skincare, I coughed up and indulged in the full sized Elemis Pro Collagen Marine Cream that my skin loved so much because I had a bargain too good to pass up. I got Mum one too just in case she decides to pinch mine 😛
What have you got planned for the weekend?
Stay beautiful,
Paris B