Did you know that Isetan is running an Anniversary sale starting 15 May 2009? I love the Isetan sale – I usually hit up the supermarket for grocery deals hee.. hee..
Browsing through the newsletter, I came upon 2 Bobbi Brown kits that were new to me.
Bobbi Brown Runway Kit – RM350
You get:
Runway Shimmer Eye Palette – 10 sheer eyeshadows
Pink Crystal Glitter Lip Balm
Mini Eyeshadow Brush & Mini Lip brush
Silver Clutch

Bobbi Brown Sunset Gold Collection – RM350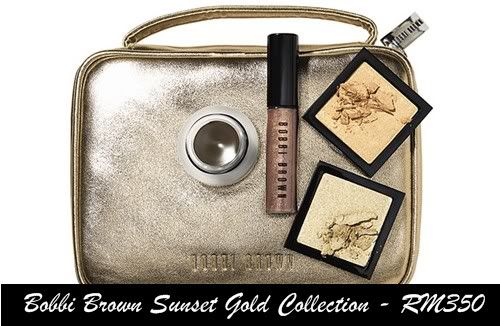 You get:
Metallic Eyeshadow in Sunset Gold and Antique Gold
Bronze Pink Glitter lip gloss
Mahogany Ink Long Wear Gel Eyeliner
Mini gold organizer
Neither really caught my eye – thank goodness! If I were to choose, I'd go for the Runway Kit even though I know that the colours will probably swatch very sheer shimmer like previous similar Bobbi Brown eye palettes. The golds may be a little warm for me.
2 more things that caught my eye were:-
Lancome Makeup set for RM207 comprising a color focus quad, lip gloss, mini brush set and sample size eye makeup remover and … something I can't quite see 😛 I have the travel size brush set and honestly, for a freebie, its not too shabby!
The other thing I rather liked was the red Liz Claiborne satchel bag which is RM199 for members. I'm a member!!! 😀 But I better lay off the bags for a spell 😛
The sale starts 15 may (Friday) so guess where I'd be on Friday eh? Hehe… Enjoy shopping! 🙂
Stay beautiful
Paris B