I enjoy discovering new brands in particular if they are homegrown – either fully or in part. There is something very satisfying knowing that a brand is conceptualized in Malaysia. It is even more satisfying when you get to meet the people behind the brand and feel their enthusiasm and passion for their brand and product. This was how I felt when I met Stanley Wong and Josephine Mook, the husband-wife team behind Definite Cosmetics. They are lovely friendly people who have great faith in their products as owners should be!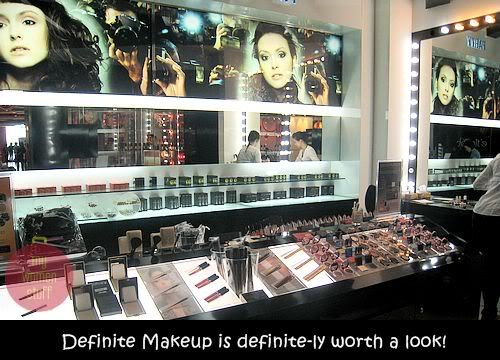 Definite Cosmetics is a Malaysian-Italian brand – products are made in Italy and packaging and marketing is done here in Malaysia. I'm assured its all from Italy and that the products are of high quality and kept to high standards to ensure they deliver the results promised.
I poked around their store in Sunway Pyramid recently and found some things that are definitely worth checking out and a couple more things that they could improve upon so read on!
Definite Party Eyeshadows rock me boat!

My eye swept the eyeshadow counter and immediately lighted on Twist n Shout (RM56) a gorgeous gorgeous deep dark khaki eye color with fine gold shimmer. The texture feels amazingly smooth and it is very pigmented. You might remember that I'm using Twist n Shout in my 1 month challenge and I'm loving every moment of it. Its so versatile and goes with almost every colour and works for a mean smokey eye. Must have in my book!

Definite Cosmetics eyeshadows come in 3 different styles – Sexy, Classic and Party. I am assured the 3 styles are being merged into one soon – it makes it easier to remember and brand to me. The Party line is the one in the square pans containing the brighter colors with nice fine shimmer. Here are some swatches.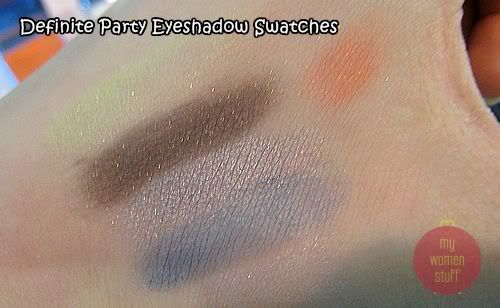 Not all have the same lovely quality and colour tone of Twist n Shout though (2nd from top). The gold shimmer of Twist n Shout sort of disappears if you blend it which is a bit of a pity but its still a lovely crease color nonetheless. Now, let them come out with a deep black with shimmer that stays in the same formula and I'll be sold! All the eyeshadows retail for RM56 for huge pans of color. You will be seeing more of Twist n Shout I can assure you!
Lipcolours galore!

You never have to worry about not finding a lip color to suit you. The lip color range is amazingly and disproportionately large compared to the eyeshadows and blush. Some of the lip colours are rather deceptive. They look boring and dull in the tube but swatch a nicer rosier hue. So, always make sure you test because even a color that you don't think much of may work out well on your skin. I was certainly surprised.
Conceal and Correct with the Artiste Concealer and Colour Corrector

The Studio Touch corrector palette (RM125) of 5 colours reminds me of the one from Make Up For Ever. It feels creamy to the touch and I might want to experiment with it one day. (For the life of me, I can't find a picture I took of it! 😛 ) Its one of Definite Cosmetics' bestsellers and I'm told the flesh colored portions can be used as eye base. Ok, I think I seriously need to try this one hehe…
As for the Artist Concealer I rather liked how it felt going on the skin – smooth. It can be used as concealer for either blemishes or under eye. I prefer it for the under eye only as I don't think it does a great job of concealing blemishes. For the under eye the concealer works well – conceals dark circles and does not settle into fine lines. It is however slightly yellow toned – good for those who are yellow toned to start with.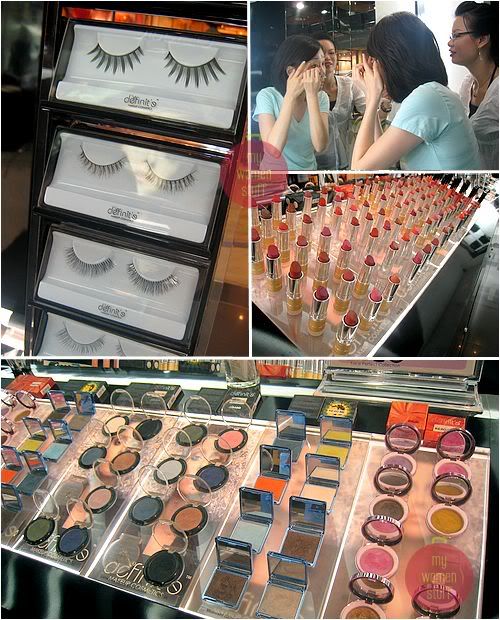 Free Makeovers and makeup tips

If you don't know what works for you or how you should use a product or if you just want to try out Definite Cosmetics, walk into any store/counter and ask for a simple makeover. The makeup artists are trained to offer this service for free and they'll throw in some makeup tips while they're at it. It's a good way to introduce a brand or product or for us to learn a new style of application.
I did have a mini makeover by their senior makeup artist Tracy who did a fantastic job but I had to really put this claim "of obligation-free makeover" to the test. So, I went incognito to Definite Cosmetics' new counter at Parkson Grand Sungei Wang Plaza (they have a new counter there and I felt like a spy!). I asked if I could have a makeover to try their products and the makeup artists in residence obliged.
There was no or little hard sell – of course they promote the product used – but I did not feel like I was being pressured into buying something or end up looking like Bozo the clown after the makeover. They even offered some makeup tips gratis 🙂 I walked out empty handed after the makeover and messing about the counter for about 20 minutes to test their reactions and I did not get that "WTF! Just trying to scum a free makeover without buying anything!" look. At least not to my face 😛 So the claim does hold true – as befits Definite Cosmetic's policy of educating the public about makeup.
More Eyeshadow Colours please!

At present, there are something like 24 colours in total. It's a bit lacking I feel although on the flipside, its easier to pick a colour you might like. I did not see any greens nor blues which are 2 colours I'm partial to, as many readers would realise by now 😉 I'm assured another 40+ colours are coming in by year end so I'll be watching out for them – more blues and greens please! I hope they have that lovely quality in Twist n Shout though 😛
Liquid Foundation is sheer and light but could be better packaged

My sister liked the liquid foundation (RM125) – it is sheer and light and she said felt lovely on her skin. Although sheer, it seemed to last well enough on her for most of the day and she has skin that allows nothing to last on it. The liquid foundation comes in a pump tube which I liked for ease of use. It reminded me of the Giorgio Armani liquid foundations. However, you are recommended to use it not through the pump but by opening up the top of the pump and and pouring out the liquid instead.
Perhaps the owners could decide whether they want a pump mechanism ala Giorgio Armani or a pour out mechanism ala Bobbi Brown and design the bottles accordingly. It would be a pity if a decent product gets flak for poor packaging.
Definite Cosmetics – Store locations

Definite Cosmetics presently has a counter and store in Sunway Pyramid (Parkson and a Definite Cosmetics store in the Asian Avenue section), Subang Parade, Parkson Gurney Plaza Penang, Jusco Bukit Indah Johor Bahru and Parkson Miri (locations here). They have only just taken a step into Kuala Lumpur with their first counter in Parkson Grand at Sungei Wang Plaza (yay!). So if you are like me and don't like trundling from Kuala Lumpur right into a different state altogether just to check something new out, you can go to Sungei Wang Plaza to check out this brand.
Definite-ly worth checking out?

I say yes they are. Whilst there may be some similarities with other homegrown brands, there is something about this brand that appeals to me. They look like they are trying to make a mark but not trying too hard to impress or be something they aren't … *coughMACcough* 😛
I'm definitely keeping an eye on Definite Cosmetics. Prices range from RM45-125 and I would place their target market at the 20-40s. There are colours and textures that will suit many working ladies because as it stands, colours are kept carefully neutral-ish and shimmer in products is never overboard. The lure of a free makeover with no strings attached is certainly a drawing factor. So, lets see where they go from here!
Have you tried anything from Definite Cosmetics? Do share if you have! I'm always interested in hearing about others' experiences with different brands outside of the norm 🙂 As for myself, I attempted a look with some of their products which I'm featuring in a couple of days and you might want to share some of your tips and looks then too! 😉
Stay beautiful,
Paris B