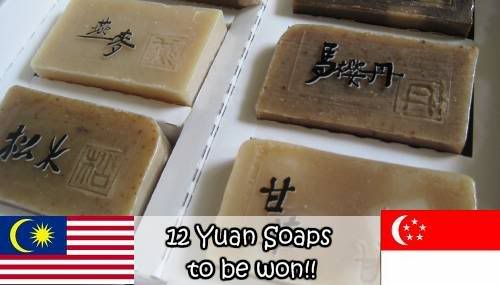 If you have not yet tried Yuan Organic soaps from Taiwan, this would be a good time to try them by winning a soap bar for yourself.
There are 12 bars of Yuan Organic Soap waiting to be won by 12 lucky readers – 6 from Malaysia and 6 from Singapore in conjunction with Earth Day on April 22.
Here's what you have to do to win – its so easy!
How to enter:
[note]
Visit the Yuan Soap blog and then come here and leave a comment telling us which soap you want. You will win your soap of choice.
Join the Yuan Soap Facebook Group OR if you aren't on Facebook, leave a comment on the Yuan Soap blog with the soap you want.
Tell us where you are from so we know how to select the winners.
[/note]
Exclusions
Winners of the 2nd Anniversary giveaway are excluded so others have a chance at winning. Please feel free to tell your friends and family 🙂
Deadline
This giveaway closes on 26 April 2009 12 noon (+8 GMT).
Simple Terms and Conditions
This giveaway is open to readers from Malaysia and Singapore only.
There will be 12 winners – 6 from Malaysia, 6 from Singapore.
The winner will be chosen at random by the people at Yuan Soap.
Prizes will be sent out by Yuan Soap and they may substitute your prize with a product of equal value subject to availability.
You are only entitled to leave 1 comment.
Good luck and have fun!