With the Stila Clearance sale going on in Malaysia (Stila is leaving to return to the USA – no news on what's happening in Stila USA) I thought it would be a good time to highlight some items I like from Stila and if you are lucky you might be able to pick them up at heavily discounted prices – call it a consumer service hehe… 🙂
Stila is not tops on my list of favourite brands but there are some things I like that I will be sad to see go and some things that some people really liked and made Stila the brand it was and still is.
Stila Eyeshadows are velvety smooth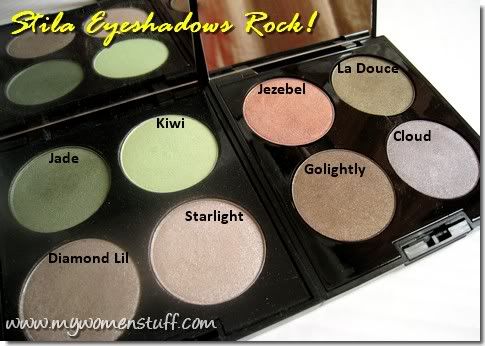 I like Stila shimmer shadows. The matte shadows are a bit meh in my mind but the shimmer ones are lovely and velvety smooth. The picture is from my review on Stila eyeshadows and I know you are wondering why I got Starlight when it appears as if I already have Starlight! The answer is simple – I goofed up the labelling of the colours 😛 Starlight in the picture is actually Cloud and what I called Cloud is a lovely lilac shade that has no name. Starlight is a gorgeous pink-beige with shimmer that makes a beautiful base or highlight shade. Highly recommended. Now don't you all go clean out the counters of this color! 😉
Stila Lip Glaze is sticky but glossy
The Lip Glaze by Stila has to be Stila's most iconic prodct. The clicky pen with brush lipgloss inspired a whole host of similar style lipglosses – more so after it was highlighted that the Stila Lip Glaze was a favourite of Cameron Diaz. I saw a similar Revlon clicky pen with brush lipgloss in Hong Kong that we haven't gotten in yet – possibly soon.
The lip gloss is thick and glossy without too much colour pay off as I previously noted but lots of girls love it. I must admit it gives a lovely sexy shine to the lips 🙂
Stila Convertible Lip and Cheek Colour : 2 in 1 practicality
I no longer own Lillium – its been sent to a better home as I was not giving it the attention it deserved. Stila's lip and cheek convertible colors are part of Stila's appeal for practicality. The colour blends easily and works both for lips and cheeks. I saw a couple still on sale so you can still snag yourself one to see what the hype is about.
Stila eyeshadow palettes rock my boat!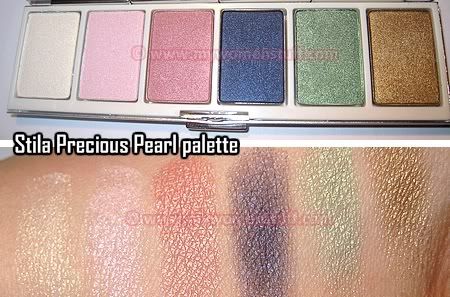 I must have a little caveat here. I am referring to Stila's 6-7 pan eyeshadow palettes, not the 4 pan ones. I find the 6-7 pan eyeshadow palettes contain many shimmery colours and the texture is mostly soft and buttery smooth. However, the 4 pan shadows like the talking palettes tend to be a little harder though still decent.
That said, I don't think there are anymore 6-7 pan eyeshadow palettes to be had unless you place a booking for the Stila Precious Pearl palette. I have an old Confections palette with the iconic Kitten eyeshadow and a pastels palette too that I hog like crazy. I've been eyeing the Kitten palette in the display case but they keep telling me its not for sale – I wonder who they are keeping it for 😛
Other noteworthy Stila products are the smudgepots and tinted moisturizers, both of which I have not tried. Now is a good time to I know but I'm passing on them.
So these are the products I liked from Stila. I was never into their blushes – I found the colours a little dull. I also never tried their Hi-Shine lipsticks though I tried their older ones which I found too dry. I do have a baked eyeshadow trio I really like that I have not reviewed but I don't think its available at the counters anymore. If you can get it and like shimmer, grab it! I'll review it some time soon anyway because its still readily available online at decent prices 🙂
I hope this helped you … or maybe encouraged you a little to check out Stila before they fly away from here 🙂
Stay beautiful,
Paris B