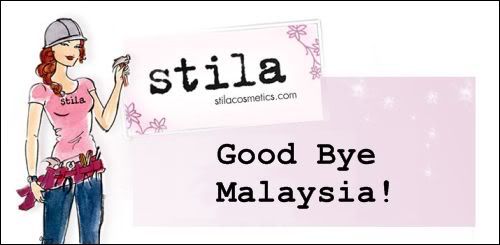 I got this bit of info when I got back so apologies if I'm late with the news. But Stila is saying goodbye to Malaysia.
That's right, no more Stila in Malaysia. In fact, there have been rumblings that there may be no more Stila… period! The Stila website is down and from what I've read online, its been down for over 2 weeks.
News are that Stila is refinancing and trying to stay afloat instead of just going under. Not easy if no cosmetics giant picks them up, I feel. When Estee Lauder sold the brand I knew something was up – Estee Lauder will never sell a good performing brand – see MAC. And since the sale, nothing has been the same with Stila. I felt they were just floating around quite insubstantially without direction, never really making an impact for anything. It was never as exciting as it was under the helm of Jeannie Lobell. Losing the cartoon girls was a big no-no in my mind.
We'll have to see what's in store for Stila but for now, all Stila counters in Malaysia have gone on mega sale on all products until 30 April 2009.

Most counters have been cleaned out from what I hear but you can always try your luck. I popped by Isetan The Gardens and only picked up Starlight eyeshadow for RM25. Its one I'd been wanting for a while but never got. Nothing else interested me so that's my damage.The selection of products at that counter is still pretty decent I felt.
Some items you might want to consider getting are:-
Eyeshadow singles – RM25 They fit into Stila palettes or Make Up For Ever palettes
Lipsticks – RM30
Smudgepots – RM30 (I think)
Backstage Beauty palette sets – RM70
I was told that the Stila Precious Pearl palette may be available for order – it was never put up for sale. If you like bright colours you might want to order it and you might get it at a good price of RM70 too.
Did you haul big from the Stila clearance sale? Are you upset that Stila is going away and possibly going away for good?
I didn't and I'm not.
Stay beautiful,
Paris B