Because I'd read so many articles saying that Zinc Oxide is one of the best physical blockers in sunscreen I had to find one to try. Find one I did under the Australia Cancer Council sunscreen brand.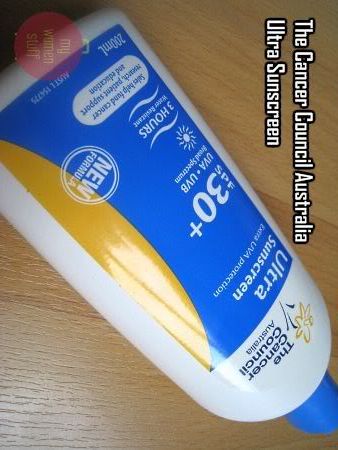 Its the Ultra sunscreen with SPF30+ and broad spectrum to protect against UVA and UVB rays. It is also water resistent and contains titanium dioxide and zinc oxide as blockers.
I'd been using this formula for a week and much as I love the Everyday Sunscreen formula, I'm afraid I dislike the Ultra formula.
The texture of the sunscreen is thick and it spreads thickly with an obvious white cast on the skin. I was expecting this because of the presence of titanium dioxide and zinc oxide so I was not overly fussed as I was only planning to use it on my arms. I did make sure I used at least a teaspoon worth on each arm so it took an extra few minutes every morning to rub in the sunscreen to my skin.
Once rubbed in, the white cast was not so obvious. But as I said, its my arms so I wasn't fussed.

As far as sun protection goes, I was happy with it. While out driving or walking in the sun (not advisable but I could not help it) I did not feel my skin burn and it did not turn red = good. I was happy.
The bad part came with the removal. You see, the Ultra sunscreen is water resistent. I did not pay too much attention to it until I had to remove it in the shower at the end of the day. I had soaped myself up and washed it off, but my arms still felt a little oily.
I could see the water droplets on the skin and if you remember your physics classes, you'd remember that water droplets will remain droplets on oily surfaces due to surface tension and other physics mumbo jumbo I have returned to my teachers at school 🙂 So, when I saw these droplets on my arms, I knew the sunscreen was not yet fully removed. I also noticed that there was still a white cast on my skin and in any folds on my elbow. Eww…
So, I tried removing it firstly with cleansing oils – yep, slathered it on my skin and washed it off as I would my face. It helped remove the sunscreen but to be doubly sure, I scrubbed myself with my Garnier Bodylight scrub and this time, I was sure I took everything off my skin. The water no longer formed droplets on my skin i.e. surface tension has been broken.
My arms were clean again!
It took me 3 days before I actually noticed all this 😛 and so I decided I'm going to stick back to my Everyday version of the Cancer Council sunscreen. I don't get this extra hassle and I'm so glad I decided not to risk applying the Ultra sunscreen on my face! I know its probably good but I don't think I could handle the thick formula.
However, I will keep my Ultra sunscreen for use at the beach or if I'm going to be out in the sun a lot. My skin seriously did not feel any burn at all for which I'm happy. For everyday purposes however, its just a little too much hassle.
A 200ml bottle retails for A$13.95 and is available only in Australia Cancer Council shops or Priceline (I think because that's where mine was purchased).
Pros: Blocks against the sun, Contains Zinc Oxide and Titanium Dioxide for better sun blocking properties, Broad Spectrum UVA and UVB, Water resistent, Affordable

Cons: Leavs a white cast on skin, Hard to remove