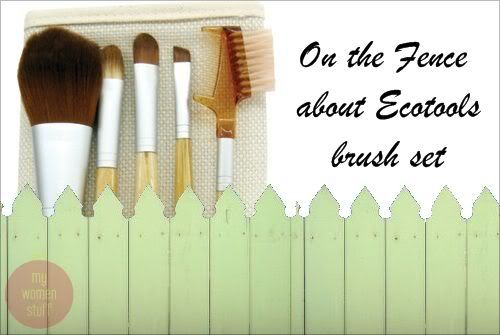 Update: Ecotools brushes are now available in Malaysia.
Not because I can't. I can now (and so can you), through Makeup Masala who offers international shipping.
A week ago I tweeted that I was not in love with the Ecotools brush set and a flurry of anguished replies asked me "WHY?!"
Here's my answer.
I must admit that much of my "obsession" with the Ecotools brush set has to do with curiousity. Because we cannot get it here in Malaysia and before this, it was hard to get due to lack of sites offering international shipping, I wanted it. It was also because everyone I knew who had it said it was SO GOOD! But recently, I had the chance to see and touch the set in person thanks to PrettyBeautiful who let me paw at her set, and immediately, I lost all interest in it!

The brushes are lovely and soft, make no mistake. The bamboo handles are lovely to hold and the whole set looks good for the price you pay (US$10 in the USA or $12.95 on Makeup Masala) but on a personal note, I found the blush brush a little too soft – I like soft brushes but I prefer something just a touch firmer for blushes. It might make a good powder brush though.
The only brush that looked promising to me was the eyeliner brush. It looks very much like my angled eyeliner brush from my Tony & Tina set and the MomoMinerals set, so that took care of any "wants" on my part.
I'm not knocking the Ecotools brush set – I think its neat for the price – I just don't want it myself anymore for now. I don't deny that I might and could change my mind in future were I to be faced with the Ecotools individual brushes or if the set was waved in my face at a tantalizing price again. For now however, its money saved for me – whew! 🙂
Do you own an Ecotools brush set? Are you in love with it? Need I even ask? LOL…
Stay beautiful,
Paris B