Apologies: For anyone who has been trying to access my blog, we had a little server trouble today. It's now been rectified. Thank you for your patience!

Dior's Summer Collection for 2009 has been known by a few names – Bronze Collection, Pop Art collection and Cristal Collection to name just 3. The reasons are clear. Bronze collection because summer is a time when bronzers come out to play and this year, Dior has come up with the bronzer-blush of the year!
2009 will be remembered forever as the year Dior launched the prettiest Bronze Harmonie blushes we have ever seen – Rose Brazilia and Coral Riviera (RM142) – both limited edition. Rose Brazilia is a pink bronze color while Coral Riviera is a warm peach bronze shade. Expect them to sell out quickly.
Rose Brazilia is still in the testing stages for me, but it looks less warm than Coral Riviera and shows up peach-rose. Can you get lovelier than that? I'll try to post up a review next week.
The Cristal Collection is so named because Dior's limited edition star item for their Summer 2009 collection is called Cristal Shine – a lipbalm/lipgloss palette (RM185). More pics if you keep reading!

Like Lady Dior for Spring 2009, the palette is a heavy metal case that has a ring and toggle clasp so you can re-use it as an accessory. The color is Corail Cristal or Cristal Coral – clear peach lipbalm on one side and a red lipgloss on the other.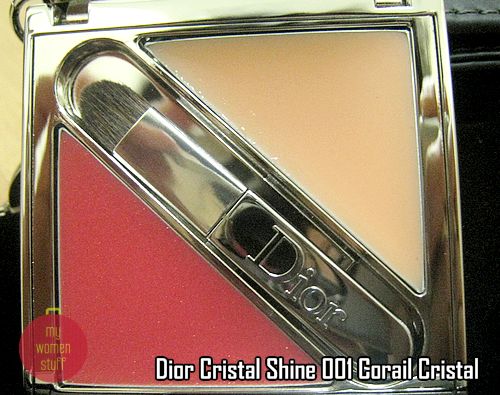 The front of the case has 3 different textures with 3 clear "pyramids" on it. There is another color shade in 002 Cristal Pink/Rose Cristal.
Its not very big as you can see from this picture compared to my camera case and it comes in a cute little velvet pouch.
There are also 2 Iridescent Couleurs eyeshadow palettes – 859 Graphic Light (Limited Edition) and 259 Electric Lights. Graphic Light is going to be pink so I'm guessing its a no-no for me. Electric Lights is a blue-purple which is my sorta colour and since Electric Lights is not limited edition I guess I can wait 🙂 Karen has good pictures of Electric Lights and Coral Riviera. She has compared Coral Riviera to Nars Torrid but sheerer. I just wore Torrid yesterday and I think I made the right choice going with Rose Brazilia 🙂
Another new item is Dior's Diorshow Extreme mascara that promises to wash out to only hot water. I'm going to let you know how that one goes.
What has grabbed you from Dior Summer 2009?
Which Dior Summer 2009 item grabs you?
Dior Summer 2009 has turned out to be a much better collection for me than Spring 2009. The colors are brighter and that Rose Brazilia blush! Blush girl = me 🙂 Dior has always been a little boring for me but lately, what with the new 5 Couleur Artistry palettes and this summer collection, I'm slowly but surely getting drawn in… help! 😛
Stay beautiful,
Paris