Earth Day is around the corner. April 22 for anyone interested.
Like Earth Hour that passed us by early this month, I am a little troubled by Earth Day and by the whole environment-friendly theme. Somehow, I feel that instead of raising awareness of the environment or actually doing something to "green the Earth" many companies are in fact taking advantage of the environment to boost sales.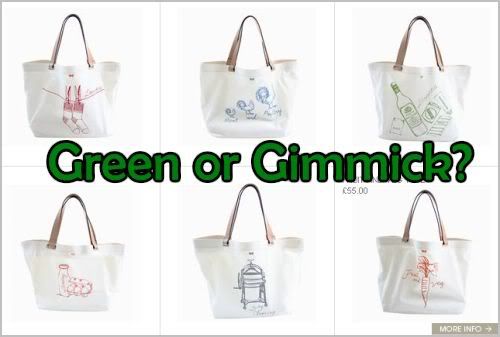 I was made to think when I saw pictures of the latest Anya Hindmarch Canvas Tote with leather straps. Each canvas tote comes with a different print and there are 6 prints in all according to the website.
I see this as riding on the popularity of the "I'm not a Plastic Bag" bag that caught the world by storm. To me, the popularity of that one is less for not being a plastic bag and more for being an affordable Anya Hindmarch bag! This time we aren't seeing the lines of people queueing up for these canvas totes because they retail for GBP55. Still affordable for an Anya Hindmarch but not so affordable that people will queue for hours for it.
In Malaysia, you can get the Anya Hindmarch Canvas Tote at Isetan The Gardens for RM590.
I don't know. If I were going to save on a plastic bag, I think I'd opt for a RUME bag – more practical, more space saving, and simply more affordable! I can soil a RUME with my marketing (its washable) – I don't think I'd be able to bring myself to soil an Anya Hindmarch!
What do you think? Green or Gimmick?
[poll id="16″]
Stay beautiful,
Paris B