One of the nicest things about travelling and stepping into airports is the duty free shopping. I don't always end up buying things – in fact, I usually end up buying nothing at all at duty free! But there will always be things that catch my eye – stuff you don't always see at the regular counters.
And these things are the duty free travel exclusives – exclusive makeup palettes, skincare sets etc. Here are a couple of items that caught my eye as a matter of interest less than as a matter of wanting them.
Shu Uemura Travel Exclusive eyeshadow palette – S$77
I don't know if this eyeshadow palette is available at all airports or on all other airlines. I saw this on Singapore Airlines and would have gotten the Cool palette if I could wear Shu Uemura eyeshadows. If you are a collector or a fan of this brand, you might want to place this on your wishlist if anyone you know is going to fly SQ! 🙂
Yves St Laurent French Manicure set – S$60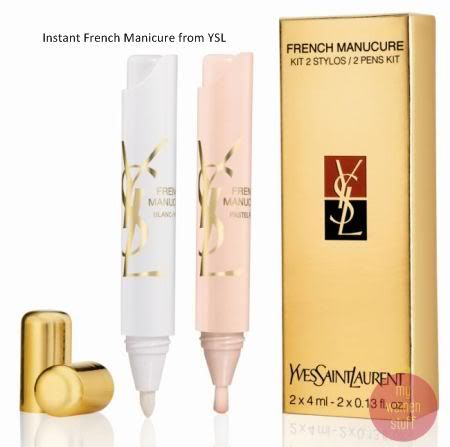 I was quite fascinated by this product. The instructions say you are to draw a white line with the white pen then use the pink pen to apply a layer of light pink on your nail to have a french manicure. I would have liked to see how it really works or if it lasts. Gimmicky but a fun gift I reckon.

Dior Travel In Dior Makeup Palette – S$69
For some reason I really wanted this Dior palette. I spotted it on the way to Vietnam but did not get it. Then on the way back for some reason I was so caught up watching CSI on the plane I forgot about it. When I got to Changi duty free, I saw the same palette in the store for S$72.50. I decided to pass as there was no tester around and I did not like the price difference 😛 Haha… I do have another chance to get it soon so I just might! 🙂
Elizabeth Arden Ceramide Mascara set – S$39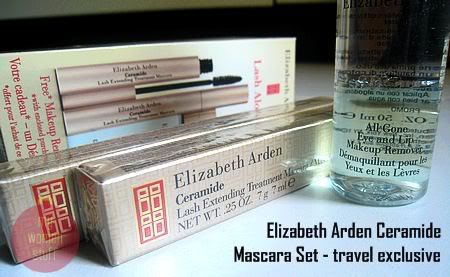 What I did end up getting was a set of Elizabeth Arden Ceramide mascara. It came in a boxed set of 2 with an All Gone eye and lip makeup remover for S$39. I was told it usually retails for S$39 for one mascara so I guess it was a steal? The story behind my getting it is a strange one.
I somehow thought that Elizabeth Arden was Helena Rubinstein and I'd heard a lot about Helena Rubinstein mascara (we don't get the line here in Malaysia) so I decided to get what I thought was steal. It was only on the plane on the way back to KL that it suddenly struck me that it was not the same – doh! 😛 Anyway, I have heard some good things about the Ceramide mascara so it would be interesting to try this one – I did get it for a bit of a steal after all 😉
Did you grab your free samples and are you going to?
I'm so glad its the weekend coming up again soon! I need to unpack and distribute gifts and recharge for the coming week ahead. Do you have anything planned for this weekend? Are you going to get your Elemis free samples and hit up the I Nuovi cosmetics sale? (Its in the same mall after all!) Have you grabbed your Lancome Blanc Expert samples? 🙂
Stay beautiful,
Paris B