I first saw the Maybelline Angelfit Blush in a Watsons store in Genting Highlands. There was no one around and I played with them for a spell and was not super impressed. Pigmented – check! Cute colours – check! Special? Nope. So I left them and went off on some hair-raising thrill rides. Ooh yeah I'm an adrenaline junkie! 😀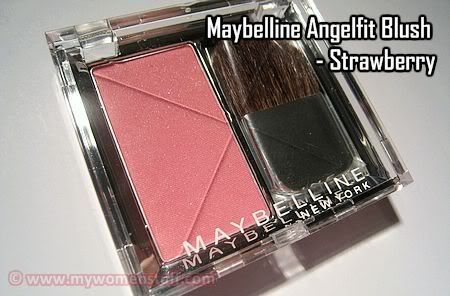 For some weird reason however, the Angelfit blushes haunted me. So when I got my mitts on the Maybelline Angelfit blush in Strawberry, I ripped right into it.
I found the packaging cute when you look at it. The faceted plastic cover does look good. But when you touch it, its a little flimsy to the touch. The brush included is, in one word, rubbish. Just bin it because all it'll do is scratch you silly. Located under the brush (and you might miss this one) is a mirror. Useful for touch ups but not useful for blush because I always need a large mirror when I apply blush to avoid the clown cheeked look.

However, I forgave all Angelfit blush's shortcomings when I used it on my cheeks (with my regular blush brush of course – I binned the brush included remember? 🙂 ) The colour goes on lovely and smooth and its pigmented for something found in a pharmacy / drugstore. It is a little powdery but I forgave it that. I also liked the colour Strawberry, which is a pink with slight peach undertone and very slight shimmer which is not very obvious on the skin. Here's a rare photo of me with the Angelfit blush on to show you how it looks.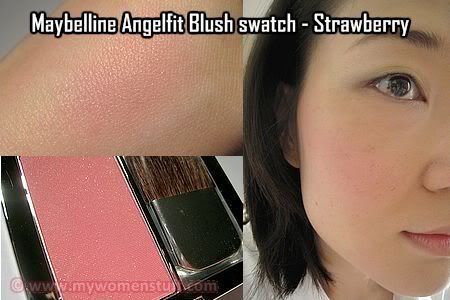 I like how this pink blush suits my skin colouring (its very kawaii) and I like that its pigmented going on. In fact, I like everything about it which is saying a lot since I am very picky about my blushes. I even took this one on holiday with me and it was nice for an everyday blush used with a light hand. I reckon the colour will suit anyone from those with light to darker skin tones.
There are 4 colours available and Jenn of Lipglosseater has some good swatches of them – Peachy Sweetie, Strawberry, Velvet Apricot and Creamy Cinnamon. At RM29.90 a blush I'd say they are a cheap and good find so no second thoughts from me!
Maybelline Angelfit appears to be an Asia Exclusive item so if you are not in Asia, you may not have access to this line by Maybelline. Or you might – feel free to let us know!
Pros: Pigmented colour, Affordable price, Applies smoothly on cheeks

Cons: Flimsy looking packaging, Useless packaged brush

Paris B's [rating:4/5]
The new face of Maybelline Malaysia
You might have seen some Maybelline Malaysia ads with a fresh faced pretty young thing and may have wondered who she is. She is Liyana Jasmay – the new Maybelline Malaysia spokesperson and the new face of Maybelline for Malaysia.
She's young and energetic which suits Maybelline's image and target consumers. She is also an accomplished young actress and singer.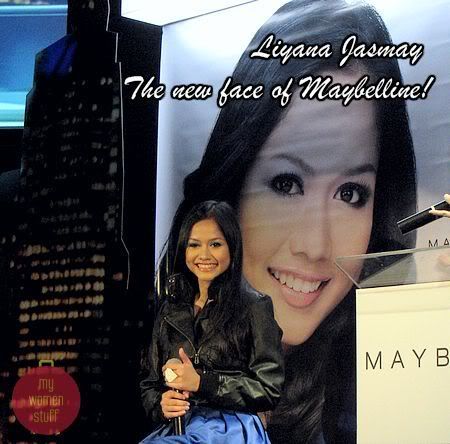 When I saw her, I could not help making the comparison to Avril Lavigne circa goth days. Long black hair, black clothes and dark eye makeup added to the image. Oh and the new song "Aku Tak Percaya Cinta" ("I don't believe in love") is suitably angsty, with lots of guitar and "Hey! Hey! You! You!" sorta lines.
Ironic that a Maybelline New York ambassador would choose to emulate a Canadian pop rock artiste no? I also thought a song of that nature was just a little too angsty but perhaps this is what the teens and 20-somethings are looking for? I'm not sure. I left that age group a while ago LOL…
But she's pretty and she'll make a good cover girl for Maybelline so yay Liyana Jasmay! Isn't she sweet?
Stay beautiful,
Paris B