I am a huge fan of Dior Addict lipsticks and I have them in the original formula, Pearl Shine, and Ultra Shine – in multiple colours! Then, I fell off the Dior lipstick bandwagon and went off to other pastures. So, when I received 2 new Dior Addict High Colour lipsticks in 2 new colours #652 Provocative Pink and #548 Capricious Coral, I had to see how they fared.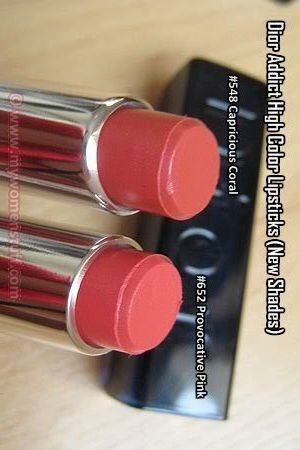 The packaging of the High Color lipsticks are like other Dior Addict lipsticks – translucent dark blue cover with slim metallic tube inside. Its simple and elegant. Dior High Color lipsticks have been around since Fall 2008 but Dior has since released 12 new colours in this range this year.
The 2 colours I had however, looked very similar in the tube. Both looked warm coral despite one being named pink. I looked and looked and for the life of me, could barely tell them apart. Even swatching did not help. Really strange.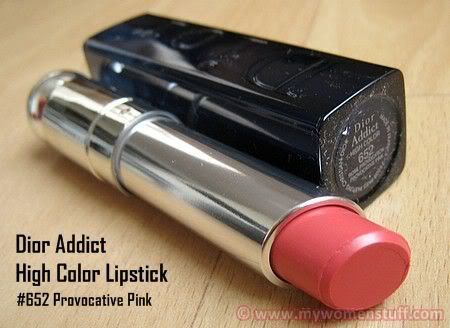 Colours looking similar aside, I also found that the lipstick felt a little sticky and dry going on the skin. Its not dry as in dried up husk dry, but more of hard to get the colour going off the tube. It is also not sticky in the sense of a lipgloss but sticky in that it "sticks" to your skin as you swipe. I was puzzled because Dior Addict lipsticks usually swatch like butter and are nicely pigmented with delicate shimmer. The Dior High Color lipsticks have next to no shimmer but yet aren't matte – they have a satiny finish. I have been advised to apply the High Color lipsticks with a lip brush. I tried it and yes, it helps with application – it goes on smoother. Also, after a few uses, it did get easier to apply.
I was told that this new Dior High Colour lipsticks contain a new lip-neutralizing formula so when you apply, you get pretty much the same colour on your lip as you see in the tube. This is to cut down the backstage technique of putting foundation over your lips to get the lipsticks to show up. Does it work? Here are a couple of swatches on the back of my hand and on my lips of Capricious Coral and Provocative Pink.

The lipstick swatches sheer on the first layer. Add another layer or two and you do get pretty much the same colour on your lips as you do in the tube.
Might this lipstick enable me to wear nude lip colours? I can't usually because I have fairly pigmented lips and most lip colours take on a rosy hue when applied. These Dior High Color ones don't, maybe due to the lip neutralizing ingredient. I actually liked these 2 colours – they warmed up my face yet did not scream "Look! Lipstick!" 🙂
Texture wise, other than it feeling a little sticky (see definition above) once on the lips, it feels like nothing on. Seriously, for something that pigmented on the lips it should feel like a heavy wax or dry you up to a husk but it doesn't, for which I am truly grateful. There is also no fragrance which again I'm happy with. This slightly drier formula seems to last longer on my lips, hardly needing any touch up compared to a more emollient one. If you have dry lips however, you might want to exfoliate before using or just skip this because it can accentuate dryness.
After staring hard at the lipsticks and the swatches, I decided that Capricious Coral does have a slightly more coral/orange tone while Provocative Pink has a slight pink tint to the lipstick. On their own, I don't think I'd have labelled the pink one pink at all! Maybe peach. And placed apart, I can't tell one colour from another 😛
Retailing at RM72 a lipstick, it isn't cheap but its average for a department store brand. If you prefer something more emollient for your lips, the Dior Addict High Color range won't be for you. However, if you like a lip colour that looks just as it does in the tube then you might want to check this one out. Its one of those you have to see for yourself if you like it before you buy it. The new colours of the High Color lipsticks are available at Dior counters from March 2009.
Pros: Colour appears as in the tube, Non drying, No fragrance, Can be layered for intensity

Cons: Feels dry in the tube, Pricey, swatches sheer initially

Paris B's [rating:3.5/5]