From not owning anything from Clarins, I have ended up owning 2 products from Clarins – the colour quench lip balm and the Colour Quartet eyeshadow quad. Ever since I saw Karen with her blue pink and silver eye using the Clarins So Sublime quartet, I have been smitten with it. It didn't help that that shade of navy blue was calling out my name repeatedly.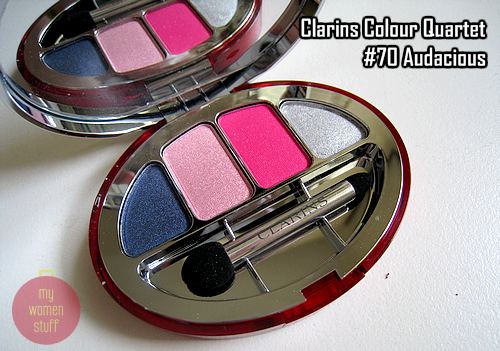 I came across a Clarins quad online called Audacious #70. I can't find it listed anywhere though the colours are identical to the So Sublime #80 quad. I realised that So Sublime was also known by other names in other countries e.g. So Glam, so I decided to take a chance on it.
Packaging wise my Clarins quad came in a typical red Clarins box and a red velveteen pouch that closes with a magnet. The case is translucent plastic on the bottom and silver on the top that attracts fingerprints like crazy. CSI would have no problems dusting this baby for prints thats for sure! 😛
The colours look almost exactly like Karen's So Sublime quad so I'm led to believe that it is a renaming of a similar palette.
Now that I had this brightly coloured eyeshadow palette in my hands, how on earth was I going to wear it?!

I'll show you some swatches first since it appears to be de rigueur these days. The colours are bright and beautiful and that bubblegum pink is eeks! bright! I do like the navy blue and silver though. I could wear just those 2 colours and be happy.
The texture of the eyeshadow is smooth and pigmented. The light pink and silver are softer than the other 2 colours to me. Used with fingers, it is stronger coloured than if you use a brush – which is normal. It doesn't fly everywhere and the shimmer in the colour is lovely and understated not chunky glitter. I was a little worried about the silver colour at first but it appears my fears were unfounded because the texture is lovely and smooth yet has nice shimmer.
However, I had to attempt to wear the bright pink on my eyes and yet avoid the rabid rabbit look which is so not sexy, so I decided to follow Karen's tips.
Happily, I think it worked quite well for me. I can't get that good a shot of my eye so this is a rough approximation of how it looks on.
Black pencil eyeliner on upper lashline
Navy Blue on lower lash line and smudged on outer corners and along upper lash line
Silver on inner corners
Light pink on middle of the lid
Bright pink on crease touched up with silver and blended like crazy
No mascara
I must freely admit to NOT being all that good at eye makeup application but I was happy with how it looked in real life, which is more important for me.
I wore this look to work. Yes, I can get away with it – yay! 😉 I might tone down the pink next time and play up the navy for a smokier night look. I did add some black liner to create more definition. For an alternative look, I will just do a navy blue and silver which I'm sure will be hot!
Does this make me want more Clarins colour quartets? Surprisingly no. Despite checking out the Clarins counter a few times, I am strangely unmoved by the other colour combinations offered by Clarins in their regular line – it might be that they are too warm for me or just too pastel. I seem to be veering more towards cooler shades. I am however, liking my Audacious palette even if I am unsure if it is So Sublime or not – either way, its working well for me and yay, I am wearing pink on my eyes! 🙂
Clarins Colour Quartets retails for RM145 at all Clarins counters. I purchased mine online for a little less.
Pros: Smooth texture, pigmented, lovely colours

Cons: Pricey for some, Naming system confuses me

Paris B's [rating:3.5/5]