[note]
Apologies to everyone who tried to comment on the Purse Pleasers post. I had a little glitch and comments were inadvertently closed. Its now open! 🙂
[/note]
Going shopping with friends is always fun but we can get bad for each other e.g. Beetrice and myself. We were not planning to go shopping. We were planning to "check out" the Bloop de Paris counter at Sunway Pyramid (the only free standing one so far) to perhaps heckle it and thanks to her, I ended up with the gel eyeliner. Teehee… She might tell you a different tale 😛
Bloop de Paris strangely enough, has no web presence, so I can't find out anything about this company. Suffice to say that it is a Malaysian company which I was told gets their stuff from Paris. At their low low prices, I seriously doubt this claim – just look at the Euro-RM currency conversion rate and you'll know what I mean.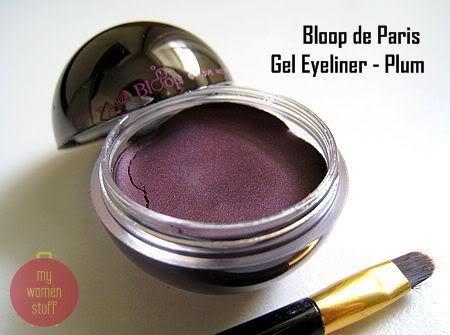 Still, the gel eyeliner in a little round pot caught my eye not for anything, but because its a nice shimmery plum shade. There is no colour name on the pot – bad! The gel eyeliners come in a few shades and although the bottom half is transparent, its filled with gel liner so they all look dark/black. Names or numbers or some form of identification would be nice if anyone's taking notes.
Packaging gripes aside, how does the Bloop de Paris gel eyeliner perform? Very well actually – I was impressed.

The gel eyeliner is very smooth and applies very smoothly with any eyeliner brush. Mine came with a crack in it but it was still smooth and not dry. It might be a packaging thing I'm not sure.
When I bought the eyeliner, I was told they were giving a brush free with purchase of the eyeliner but usually they don't and I think they sell the brush separately. The brush given by Bloop is not bad – it can be covered so its travel friendly and the brush head is quite a useful size although a little thick. If you already own an eyeliner brush you won't need this.
I liked the Bloop eyeliner for 2 reasons:-
The plum colour shows up well as a plum with slight shimmer; and
It is super waterproof
Note I said "super" waterproof. It does not budge. Not one bit. I tested it on my hand and then proceeded to wash my brushes and my house. At the end of it all, I had my shower and it was still there – as shiny as ever. It removed quite easily with cleansing oil and my usual eye makeup remover so that's a blessing.
I also wore it all day and night with no smudging, no running and no fading. Not. One. Bit! Very impressive.
The other thing I liked about this gel eyeliner is that there is no fragrance nor chemical smell. This is unlike Kate's gel eyeliner which has a strong chemical smell to me. I'd liken the Bloop de Paris gel eyeliner to Bobbi Brown's gel eyeliners – they are that impressive.
Bloop de Paris gel eyeliners retail for RM46 for a little pot that can last a while and you can find Bloop counters in some Jusco stores, KL International Airport and at their free standing counter at Sunway Pyramid (downstairs from The Body Shop). There are some other small Bloop counters scattered around but I don't know if they stock a decent range of products. I don't know where else they can be found in abundance so if anyone knows feel free to share the information.
Suffice to say, Bloop de Paris gel eyeliner gets the "Cheap and Good" award from me!
Pros: Longlasting, Nice colour, Waterproof, Affordable, Cute packaging

Cons: Product has no name

Paris B's [rating:4/5]