The only item that really captured my imagination from The Body Shop Moroccan Rose collection was the lipsticks. They were very emollient and applied very smoothly.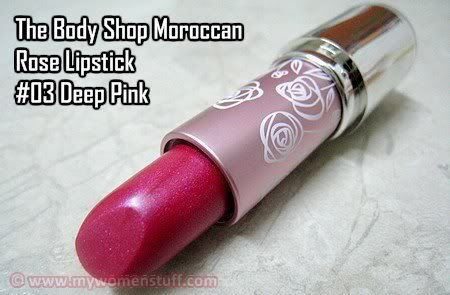 I ended up getting one of the Moroccan Rose lipsticks in 03 Deep Pink. In reality, it is less "pink" than fuschia and to be perfectly honest, can look pretty scary on! Haha…
What's pretty about the Moroccan Rose lipsticks is the packaging. Although the cover is a cheap looking transparent plastic, the body with its metallic pink tube and white print flowers looks very feminine and pretty. Contrary to my earlier opinion, there is a slight rose scent to the lipsticks. I guess the tester had been left open so the smell had dissipated.
In terms of colour, as I have stated, the colour is a deep rose-pink that borders on fuschia. The sales person at The Body Shop tried her darnest to dissuade me from getting it, persuading me that #2 True Pink was more popular and more suitable for Asian skintones. Much as I liked True Rose, its been a while since I wore a bright pink lipstick so I decided to rebel. 😛 That said, Deep Pink is a colour that might suit those with darker skintones or very light skintones best. And better still if you handle cool tones well. Also, you'll have to like bright lipstick because this one's bright!