I am a huge fan of Dior Addict lipsticks and I have them in the original formula, Pearl Shine, and Ultra Shine – in multiple colours! Then, I fell off the Dior lipstick bandwagon and went off to other pastures. So, when I received 2 new Dior Addict High Colour lipsticks in 2 new colours #652 Provocative Pink and #548 Capricious Coral, I had to see how they fared.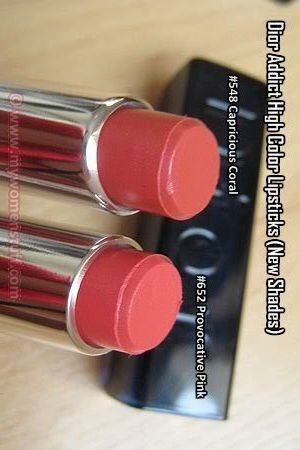 The packaging of the High Color lipsticks are like other Dior Addict lipsticks – translucent dark blue cover with slim metallic tube inside. Its simple and elegant. Dior High Color lipsticks have been around since Fall 2008 but Dior has since released 12 new colours in this range this year.
The 2 colours I had however, looked very similar in the tube. Both looked warm coral despite one being named pink. I looked and looked and for the life of me, could barely tell them apart. Even swatching did not help. Really strange.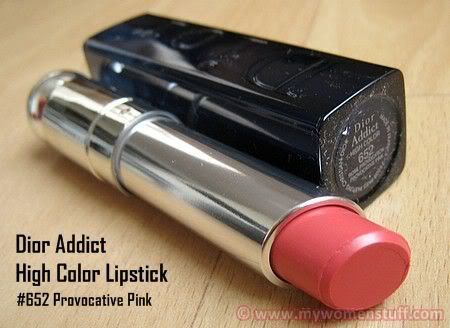 Colours looking similar aside, I also found that the lipstick felt a little sticky and dry going on the skin. Its not dry as in dried up husk dry, but more of hard to get the colour going off the tube. It is also not sticky in the sense of a lipgloss but sticky in that it "sticks" to your skin as you swipe. I was puzzled because Dior Addict lipsticks usually swatch like butter and are nicely pigmented with delicate shimmer. The Dior High Color lipsticks have next to no shimmer but yet aren't matte – they have a satiny finish. I have been advised to apply the High Color lipsticks with a lip brush. I tried it and yes, it helps with application – it goes on smoother. Also, after a few uses, it did get easier to apply.
I was told that this new Dior High Colour lipsticks contain a new lip-neutralizing formula so when you apply, you get pretty much the same colour on your lip as you see in the tube. This is to cut down the backstage technique of putting foundation over your lips to get the lipsticks to show up. Does it work? Here are a couple of swatches on the back of my hand and on my lips of Capricious Coral and Provocative Pink.
Continue Reading