Week 4!! Already!
If you haven't won anything yet, there's still 2 more chances to win. This week, the prize is sponsored by LovingMinerals.com.
The Prize
Loving Minerals has been another very supportive sponsor and I truly appreciate that they are taking part again. This week's gift is very very generous!
3 … yes THREE lucky winners will stand the chance to win RM120 worth of products from Loving Minerals!
If the winner is a registered member of Loving Minerals you will win an additional prize of a Loving Minerals 100% Synthetic Dual-fiber Stippler Powder Brush.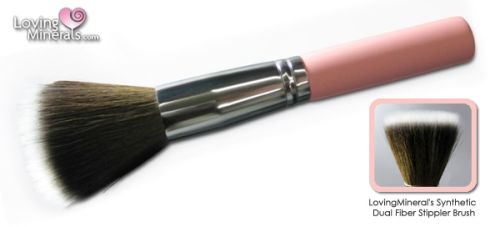 I know you are just chafing at the bit to enter yes?
How to enter
All you have to do to enter for this giveaway is to leave a comment below with the following:-
[note]
I'm loving Loving Minerals because… (not more than 15 words)
List the items (product(s) full name and price) you want to redeem using the RM120 Loving Cash voucher
Name one item or brand reviewed on My Women Stuff that can be found at Loving Minerals. (Tip: Look under the Mineral Makeup category or run a search)
[/note]
Additional Entry
For an additional entry, if you have a blog, write about the products you want to redeem using the RM120 voucher and have 2 links – 1 link to LovingMinerals.com and 1 link to my blog – any post will do. When you are done, come back and leave a comment with the link to your blog post.
Deadline
This giveaway runs until 28 March 2009 12noon (+8 GMT). Comments will then be closed.
Exclusions
All winners of the Christmas, Valentines Day and previous Anniversary giveaways are excluded. Lets let others have a chance eh? Please feel free to promote this by way of your blogs if you wish 🙂
Simple Terms and Conditions
There will be 3 winners chosen at random by Loving Minerals.
Only winners who have registered on the Loving Minerals site by 28 March 2009 will be eligible for the additional prize if you win.
This Giveaway is open to readers with a Malaysia mailing address only.
The RM120 Loving Cash voucher is only valid for full priced items currently in stock and individual full-sized items (not sets or specials), with a maximum of 1 piece per item (so readers can't pick to buy 3 flat top kabukis, or 2 sand silks, etc.)
The total of the items chosen must not exceed RM120 and if the total is less than RM120 any balance will not be refunded in cash.
Prizes will be sent by LovingMinerals.com.
For full set of terms and conditions, please click here or risk disqualification if you do not comply.
Have fun and good luck!
Stay beautiful,
Paris B