This is the 5th and Final week of the My Women Stuff 2nd Anniversary giveaways. Whew! It has surely been an exhilarating month, hasn't it! 🙂
This final giveaway is sponsored by me and is a thank you to all the readers for your support.
Prize #1

The first prize up for grabs is a cosmetics giftpack filled with various goodies!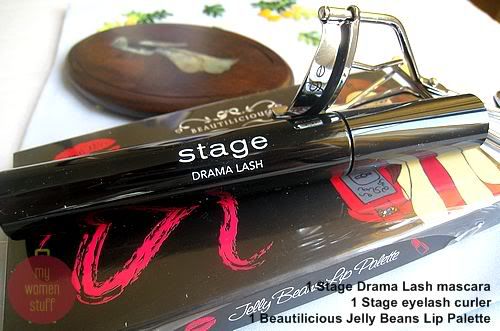 Prize #2 – only for Malaysia

A special prize for Malaysian readers is 1 Audio Couture Clutch worth RM180 with working speakers and some extra goodies!
Read on to find out how to win these. You might want to read through ALL the terms carefully before taking part. As the number of entries has been large, I won't be telling you where you went wrong so do read the terms. Also, your comment might slip into spam or be moderated so please don't be rude when your comment does not show up immediately. Nothing is instant in this world – not even instant noodles 😛
How To enter :-
Its easy to enter. Just leave a comment below telling us:-
[note]
Where are you from?
What have you enjoyed reading most at My Women Stuff and what you would like to see more of in the future.
[/note]
To get 1 extra entry (optional)
Subscribe to receive updates by email. The form is at the end of this post or right up in the header. If you have already subscribed, there's nothing more to do! This doubles your chances of winning but of course does not guarantee you winning. Please use the same email as in your comment below so I can cross check. If you don't activate your subscription you don't qualify.
Exclusions: All winners of the previous Christmas and Valentine's Day Giveaways and the winners in the past 4 weeks of the 2nd Anniversary giveaway are excluded from this contest. Let's let the others have a chance ok? 🙂 You are of course welcome to spread the word of this contest via your blogs if you are feeling generous 🙂
CONTEST DEADLINE

This contest will run from now until 12 noon 5 April 2009 (Malaysian Time +8 GMT) and I will close all comments then and thereafter choose the winners randomly from all the entries I have received. Be patient if there are lots of entries as I'm just one person!
Summary of Terms and Conditions (IMPORTANT: Please read)

This contest is open to ALL readers worldwide – and that includes you and you and yes, YOU! 🙂
Prize #2 is only for those with a Malaysian mailing address.
Each winner will only receive 1 prize irrespective of the number of entries you are entitled to.
If you win and have a blog, do write about it and let us know what you did with the prize. It'll be fun for us to know.
You may only leave one comment. Multiple comments or emails will be rejected and will be disqualified.
Winners of the Christmas and Valentines Giveaway and winners of the previous 4 weeks are excluded from this contest – sorry girls!
Winners will be chosen randomly.
Feel free to spread the word to your friends and family – the more the merrier!
GOOD LUCK AND HAVE FUN!