Malaysia greeted the gothic Hello Kitty by MAC Cosmetics on Wednesday. I happened to be in MidValley Megamall when I saw loads of MAC Hello Kitty balloons all over for the launch – I asked but they refused to give me one (it was reserved for "media" hmph!) although they did not refuse an adorable child one – ageism I say! 😛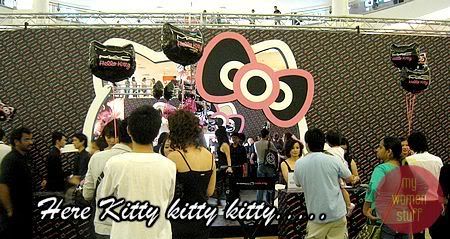 Anyway while I was passing by the launch, I saw something traumatizing.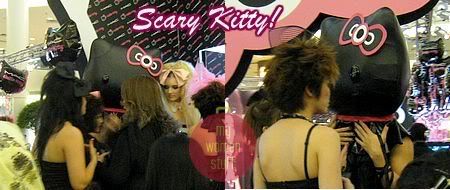 Did you spot the kitty? Honestly, there is something terribly frightening about a giant BLACK Hello Kitty head mounted on a man who is striking a pose for the people who don't seem to care that Hello Kitty is black and gothic! Very frightening!
I also managed to get a picture of some of the Hello Kitty Collection and to test a couple of the products while being buffeted by the black Hello Kitty balloons that mocked me from everywhere I looked – sigh…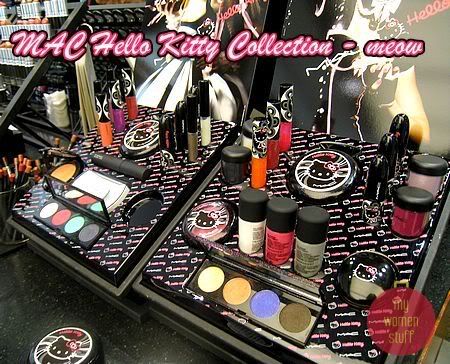 By now most of us already know what the collection contains. I only found out prices for 2 items before the sales assistant was whisked away:
eyeshadow palettes – Lucky Tom (warm) and Too Dolly (cool) – RM150 each; and
Beauty Powder blush – Tippy (cool fuschia pink) and Fun & Games (warm peach) – RM75 each
I swatched the Too Dolly eyeshadow palette (far left in the picture) and to my absolute delight realised that Beautilicious Alyssa palette is a dupe for 2 of the colours! The seafoam and sparkly black! I know I know… I've been tardy and not reviewing Alyssa. But I am so sure that they are a good dupe!
Tippy beauty powder blush is a cool fuschia pink and I thought Nars Desire blush might be a good dupe or any cool pink blush. Fun & Games blush was a very neutral looking peach blush. Suffice to say, I wasn't quite wowed by the Hello Kitty collection… except for the balloons 😛
Oh and on the tip off of a reader, I also checked out the Blonde Mineralize skinfinish powder (RM105) from the Blonde Brunette and Redhead collection and yes, the colours are pretty but way too shimmery for me. I also saw the new Mineralize blush duos (RM95) (link). I just realized that the Mineralize blush duos aren't out in the USA yet which makes us ahead? Really odd! The only colour I clearly remember is Moon River which is a marbled swirl of colours on one half and a pink on the other. It swatches cool shimmery pink. All the blush duos are really pretty but again too shimmery for me. Am I getting old that shimmer on the cheeks don't grab my attention anymore! Horrors! 😛
Bobbi Brown Brights palette
So, having satisfied myself with MAC Cosmetics, I wandered over to Bobbi Brown where it was markedly less chaotic and lo and behold! I saw the Bobbi Brown Brights eye palette!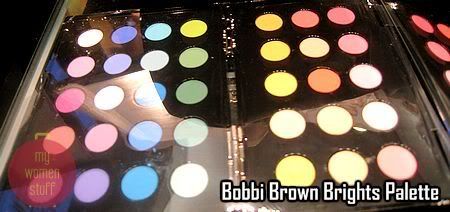 It was wrapped in cling wrap so prying fingers don't poke at it but what struck me instantly was "Oh my! Its TINY!" and it is.You can't quite tell from the picture, but the palette folds up into 3 sections – cool colours, warm colours and mirror. The size of the palette is about that of the usual Bobbi Bown pre-made palettes and each colour is about the size of the tip of my finger or smaller than a 5 sen coin. I'm not kidding!
The palette retails at RM280 for 35 drops of colour. They reminded me of Smarties 😛 Simple math puts each colour at RM8 which is very cheap for Bobbi Brown if you are asking me! I actually toyed with the idea of getting it for travel – 35 colours at your disposal! I did not test it but instead enquired about the Platinum Pink shimmerbrick of which no one had any idea what it was or when it might be expected. I'll let you know when I know!
So, have you seen either the MAC Hello Kitty collection or the Bobbi Brown Brights Eye palette? Did you get anything from either brand? Were you sucked into the Kitty hype? Did you like anything from it? Do share!
Stay beautiful,
Paris B