One fashion gripe I have is bra straps showing when ladies wear spaghetti strap tops or sleeveless tops and I'm not a fan of the clear silicone bra straps either. I know its supposed to be "transparent and invisible" but its there and its more obvious than most people think. But what if someone makes bra straps so fashionable looking that you can't help but want to show them off? I'm not talking about those colourful or patterned regular bra straps, but bra straps that are truly unique fashion accessories themselves.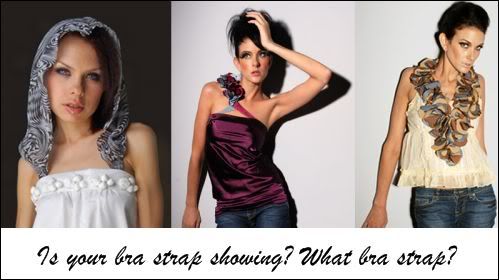 Introducing DeLowie Bra Strap a company from France that specialises in such fashionable bra straps. Hah! I bet you never realised that the pictures above were of women showing off their very unique fashion accessories! 😀
The bra straps hook onto regular strapless bras or tube tops and you wouldn't even think they were part of your inner wear. There are also some regular coloured or patterned bra straps that some might like to flaunt.
The cute thing about these accessories is that it actually helps you hold up your strapless bra – I can tell many a disaster story about strapless bras that have to be permanently tugged to stay up or that are so tight I can barely breathe.
Best of all, DeLowie ships worldwide! Hurrah! 😀 Shipping is an affordable flat fee of $5. I'm more drawn to the unique ones rather than the normal looking straps though I'm not sure I'd find an occasion to wear them out. How about you?
Have a great weekend and stay beautiful,
Paris B