Again I find myself writing about a brand that does not usually excite me – The Body Shop. However, the new limited edition Moroccan Rose collection is tempting me with a purchase or two from this new line. Unlike many I was not enamoured with the Cherry Blossom collection – the smell did not attract me.
I am also usually not into Rose scented products, finding them too powdery or too strong but I am surprisingly taken in by the Moroccan Rose collection.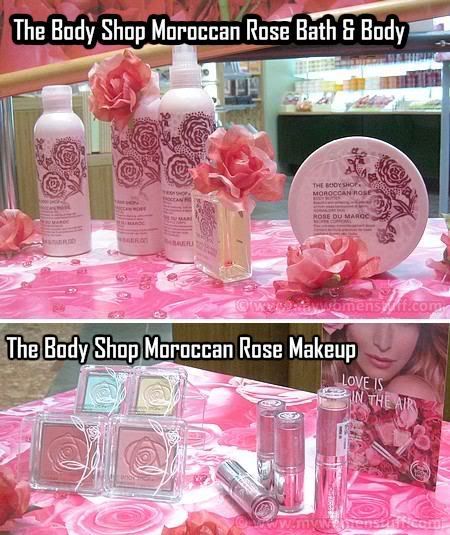 Released just in time for Valentine's Day, the Limited Edition Moroccan Rose collection comes with both bath and body and makeup products with a rose theme.
In the bath and body collection there is:-
Moroccan Rose Eau de Toilette – rose scented perfume which I found reminiscent of the Tea Rose perfume oil carried by The Body Shop.
Moroccan Rose Body Butter (RM75) – light body butter with rose scent
Moroccan Rose Body Lotion – Comes in a spray bottle and spritzes out a light body lotion with a lighter rose scent than the body butter.
Moroccan Rose Shower Gel (RM49) – shower gel with a light rose scent. It actually smells quite refreshing and this is the one item I will definitely get.
Moroccan Rose Bath and Massage Oil – A rose scented oil you can use in a warm bath or for massage – perfect for a Valentine's night in 😉
There is also a Moroccan Rose makeup line (also limited edition) that carries the rose theme. Some swatches are found below.
Roseflower Eyes (link) (RM49)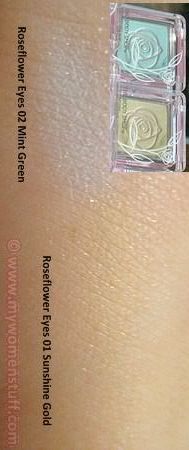 These are pretty. Square pans of eyeshadow in what is called Mint Green and Sunshine Gold. I found the colours very light and very sheer. I actually thought that Mint Green was a blue – it even swatches blue on me! Nice if you like a wash of colour on the lids but otherwise I don't think I'd get these despite their pretty design. You can see that the gold barely showed up on my hand.
Roseflower Blush (link) (RM75)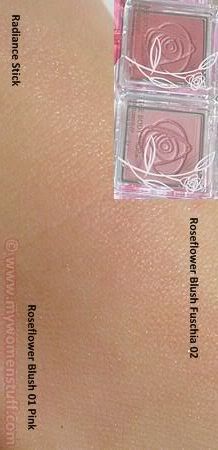 There are 2 powder blushes with a lovely design of a rose etched into the surface of the blush. There are 2 colours Fuschia and Pink. Fuschia looks scary red in the pan but swatches lighter than it looks. Ditto with pink that barely shows up on me. There is no discernable shimmer in Fuschia (except for the slight shimmer on the pattern) but Pink does have some shimmer. They are super pretty if you can bring yourself to pay the RM75 pricetag on them. If you sniff them, there is a slight rose scent infused into the blush.
Roseflower Lips (link) (RM45)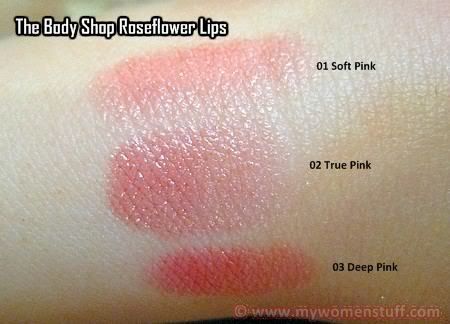 Now these I liked very much! There are 3 lipsticks in the Moroccan Rose collection – Soft Pink, True Pink and Deep Pink all of which swatched on me rosy as opposed to pink. I'd prefered if they had kept to the Rose theme throughout. I detected no discernable scent (thank goodness!) and my favourite is True Pink 02. I like the smooth texture and slight shimmer. The packaging is also super cute with a metallic pink holder with white rose patterns on it. So sweet! This is also one item I might end up getting if all of you don't beat me to it! LOL…
Roseflower Radiance Stick (link)
This is a cream highlighter in a packaging similar to that of the lipsticks. Very pretty and swatches with barely there colour but with shimmer for highlighting. It is a cream to powder highlighter but not something I'd get much use out of.
Overall, I am impressed with the Moroccan Rose collection from The Body Shop. It is suitably delicate in looks and has a fresh rose scent as opposed to heavy powdery artificial roses.
There are some special gift packs that might catch your eye, and if you buy the Eau de Toilette with another product you get 10% off. There is also a set of Eau de Toilette, Fuschia blush and 02 True Rose lipstick for RM175. That one's a good deal if you like the perfume.
Have you seen the Body Shop Moroccan Rose collection and what do you think of it? Share your thoughts below.
Stay beautiful,
Paris B