Ok, so the honeymoon period for the Stila Precious Pearl eyeshadow palette is over and its been defiled by my fat fingers 🙂 "And for the better too!" I can hear you cry because we now have swatches (picture taken with muted flash to show off shimmer).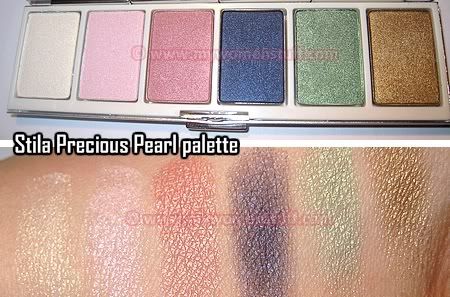 The Stila Precious Pearl palette is Stila's limited edition offering for Spring 2009. I personally like the bright colours because I'm like that. However if you are just starting to experiment with colour, this might be a good palette too because you get a whole bunch of colours to play with.
What is nice about the Precious Pearl palette is the colour variety and pigment. The colours are very soft as befits Stila eyeshadows, and nicely pigmented. The swatches are swiped twice and once on the skin – nice strong pigment. Oh and they are shimmery so if you dislike shimmer, you might not like this palette much. Still, its nice soft pearly shimmer not huge chunks of glitter. The colours contain real pearl – is that a good thing?
Some Pearl trivia: Pearl powder has been used in cosmetics and for medicinal purposes primarily in China and Japan and is supposed to enhance the complexion and promote skin whitening. Pearl powder also adds iridescence and shine to eyeshadow and powders.
How does the Stila Precious Pearl palette perform then?
I'll be honest. It disappointed me somewhat. I was looking forward to the deep blue and green colours. These are my favourite sort of colours. However when swatched, they were rather light. The navy blue especially swatched a more matte dull shade. The green swatched less emerald than it looks.
I was a bit thrown by the pinks initially, but I ended up pairing them with the navy blue. Light pink all over the lid, dark pink in the outer corners and navy blue to line. I thought the effect was quite nice and for the first time I did not look like a rabid rabbit! I tried lining the lower lashline too – too much?
The next day, I used emerald green all over, khaki in the outer corner and the cream-white to highlight. I loved this combination and although the emerald was a little light when swatched on the hand, I liked it on the eyes. (Don't ask me why I look so serious LOL… ).

Yet another day, I went a little nuts and used green on the outer corner, and light pink on the inner corners with navy blue to line. I didn't think it looked too bad. A bit colourful maye eh? 🙂

So, although the colours do look a little bright, they play well together and the navy blue is dark enough for accent and for lining.
The palette feels heavy which I think is caused by the mother of pearl inlay in the cover. I like the heft – it makes the palette feel expensive (which it is 😛 ) and the cover looks pretty too.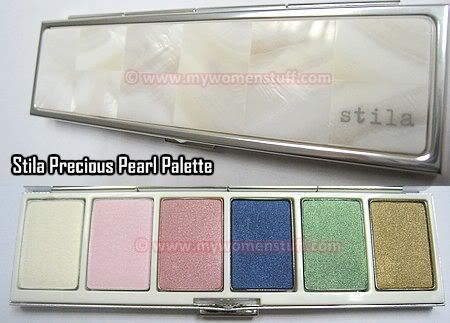 I use either a brush or fingers to apply the colours – I am never fussed about the lack of applicators in palettes because I never use them most of the time.
I purchased my Stila Precious Pearl palette for US$40 from Sephora. It will retail in Malaysia for RM190 and is due out in counters in March 2009. If you consider that you are getting 6 colours for the price, it doesn't work out too expensive.
Pros: Bright colours, good pigment, nice shimmer, lovely looking palette

Cons: Some colours are sheerer than they look, Pricey

[rating:4/5]
The other products in this collection are:-
Pearl Shimmer Gloss – RM85 each
Pomegranate Crush lipglaze – RM85
Pomegranate Crush Smudge Pot – RM75