My first encounter with the brand Yes to Carrots was on a trip to Singapore about 6 months ago. I was intrigued by the name and I scored some samples to test and one of it was the C Today or C You in the Morning day cream. I decided then that I did not quite like it as a day cream and I said so too.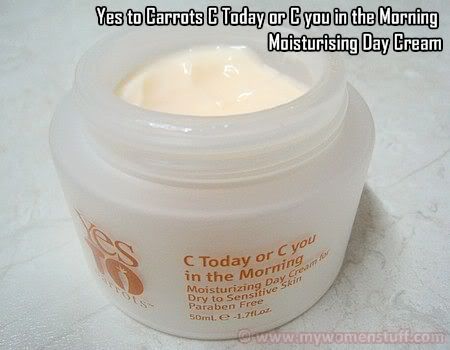 Recently, I received a tub of the Yes to Carrots C Today or C You in the Morning day cream and remembered my earlier experience with the cream – its too thick for day use for me – and decided to change my strategy a little.
I did my research this time and found that the Yes to Carrots line is mostly tailored towards those with dry skin. So that explained why I found the cream too thick for use in the day. I don't have dry skin and living in a humid weather I don't have winter skin to deal with.
Instead, as I had been finding the Mukti Balancing cream too light for night use, I replaced it instead with the C Today or C You in the Morning day cream. I figured that since there was no SPF in the cream, it would work for night use.
And I'm happy to report that I was right. Incidentally there is a National Carrot Day (Feb 3) in the USA – kid you not! So there are some carrot trivia below you can regale your friends with hehe…

For night use, and as I sleep in an air-conditioned room, I slap on the thick cream after using toner/on a toner dampened face. The water based cream is a little thick and takes a little while to absorb but once it does, it is non greasy. In the mornings, I wake up with soft plump skin. Nice! Because its thick you don't use a lot either and I love the directions on the back of the tub.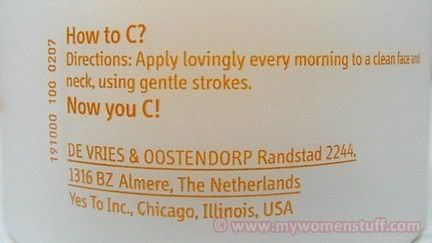 I will admit that the fragrance in the product is quite strong. I can't quite pin point what it smells like (its a little powdery), but it isn't carrots. The scent does last a little bit so if you are sensitive to smell, you might want to take note of that. The tub is very bulky but the pot containing the cream is only very small. I wonder why. A less bulky packaging would make it easier to travel with. Also, I'm not that keen on tub packaging for hygiene reasons but I understand the need because its a thick cream.
I now feel a little silly for not using the remainder of the sample day cream at night. Scent wise, the night cream has a lighter scent. Yes to Carrots is paraben free and gentle on the skin and for those who care, its not tested on animals. I experienced no breakouts at all while using this and my hands seem to be liking it too. There is another Yes to Tomatoes line for oily skin and Yes to Cucumber line for normal/combination skin but I haven't seen or tried those yet.
We cannot get Yes to Carrots in Malaysia at time of writing. Our nearest stockists are in Singapore (Watsons) or Thailand (Watsons and Central department stores). Do look here for a list of countries and places that carry Yes to Carrots elsewhere in the world. I cannot remember the price in Singapore but it costs US$14.99 for a 50ml tub of Yes to Carrots day cream at Walgreens. A little goes a long way because its so thick so I'd say its very affordable!
This has also reminded me that I purchased a Yes to Carrots body wash from Bangkok a few months back. Now would be a good time to take it out for a trial run! 🙂
Pros: Inexpensive, good for dry to very dry skin

Cons: Not available in Malaysia, Bulky packaging

[rating:4/5]
And now for some Carrot related trivia – 10 things you did not know about carrots … and were too afraid to ask! 😀
The Ancient Greeks called the carrot a philtron, which translates to "love charm." They believed the carrot made both men and women more amorous (Now you know what to serve on Valentine's Day! LOL)
Eating too many carrots can cause a person's skin to turn yellowish orange, especially on the palms or soles of the feet. This is called carotenemia. It is completely reversible once the consumption of carrots is reduced
Orange carrots get their color from beta carotene.They have more beta carotene than any other vegetable. One cup of carrots has 16,679 IU of beta-carotene
If you dream of carrots – it portends prosperity and health; for a young woman to eat them denotes she will contract an early marriage and be the mother of several hardy children!
Carrots are not always orange and can also be found in purple, white, red or yellow
The carrot is a member of the parsley family including species such as celery, parsnip, fennel, dill and coriander
To curl carrots, peel slices with a potato peeler, then drop them in a bowl of ice water
Mel Blanc, the voice of Bugs Bunny, was not very fond of carrots
One cup of raw carrots contains about 52 calories
Carrots are about 87% water
Ingredients
Water (Aqua), Daucus Carota (Carrot) Seed Oil, Daucus Carota (Carrot) Juice, Aloe Barbadensis Leaf Juice, Isopropyl Myristate, Propylene Glycol, Persea Gratissima (Avocado) Oil, Dead Sea Water(Maris Aqua), Prunus Amygdalus Dulcis (Sweet Almond) Oil, Glycerin, Glyceryl Stearate, Cetyl Alcohol, Disodium EDTA, Squalane, Caprylic / Capric Triglyceride, Peg-40 Stearate, Potassium Cetyl Phosphate, Sorbitan Tristearate, Tocopheryl Acetate, Fragrance (Parfum), Ginkgo Biloba Leaf Extract, Hyaluronic Acid, Cucumis Sativa (Cucumber) Fruit Water, Hamamelis Virginiana Flower (Witch Hazel) Water, Camellia Sinensis (Green Tea) Extract, Chamomilla Recutita (Matricaria) Flower Extract, Niacinamide, Spirulina Maxima Extract, Citrus Aurantium Dulcis (Orange) Peel Oil, Citrus Nobilis (Mandarin Orange) Peel Oil, Silt (Maris Limus), Imidazolidinyl Urea, Salicylic Acid, Punica Granatum (Pomegranate) Peel Extract.