When I received the new I Nuovi Metallogy Metallic Liquid Liner, I was quite hesitant to try it. I've NEVER had a good experience with liquid liner which explains why you never read about it here. I just have no idea how on earth to use it!
Anyway, to challenge myself, I took it with me on my Chinese New Year holiday and it was the only eye liner I took. Imagine if I botched up – I'd have to redo my eyes every single time! (I did too 😛 )
The I Nuovi metallic liquid liner comes in a little tube with a long pointed handle. I used to wonder why liquid liners came with such long covers – now I know. Its so you have a better grip while lining your eyes. I'd prop my hand on my cheek and angle the brush on its side to draw a quick line and it worked for me.
The applicator is a thin firm pointed brush and when you pull it out of the tube, it tends to "stick" a little, rather like mascara does. So if you aren't careful, you can spatter some liquid on your hand but its not all that drastic as I make it out to be.

The I Nuovi metallic eye liner applies a dark black with silver sparkles (my colour is Black Magic). Its a nice black unlike then thin dark greys you sometimes get in a liner that try to pass for black. It was not as hard as I thought to make a thin line but I would get frustrated because I'd blink before it dried and then the line would transfer to my lid. I had less problems with my left eye. Strange.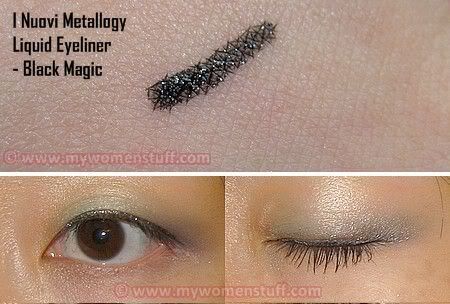 Here's how I ended up doing my eyes to prevent the liner transferring to my eyelid.
Tilt your head up so you are looking at a downwards angle at the mirror. Rest the side of your hand against your cheek for stability and in a quick motion, draw a line close to your eyelashes from the inside to the outside. Wait a while for the liner to dry before dropping your head back down or blinking. I found that when I kept my head up, the liner did not transfer even when I blinked gently. However don't try opening your eyes too wide – it can still transfer.
The ink takes a while to dry which can be a hassle if you are short of time. The water based liner did not fade although I was out in the hot sun taking photos of a pink dragon dance 🙂 and neither did it run. The sparkles aren't all that obvious on your eyes are they are on the back of the hand. So it depends on what you like – for me it suited me just fine because its not so glittery to distract and I can wear this to work (yes I have a very relaxed dress code 🙂 ) I had no problems removing it with my regular eye makeup remover.
There are 4 colours available – Black Diamond, Midnight Rust, Liquid Crystal and Gold Shimmer. I'm not sure why the names on the website don't correspond to the name of the product I have. Also, the box says Metallogy EyeLiner while the tube itself says Metallogy Dipliner. Names aside, I think it a pretty decent product if it could just dry a tad faster.
A 2.5ml tube retails for RM65 (S$35/ US$28.50). I Nuovi is available worldwide and you can find your nearest store here. In Malaysia, you can find I Nuovi at Sunway Pyramid, selected Parkson and Metrojaya stores and in Sasa stores throughout the country (I failed to find it in Sasa MidValley Megamall though).
Pros: Nice dark black, Understated glitter

Cons: Takes a while to dry so be careful not to blink, A little pricey

[rating:3.5/5]