I'd been seeing the ads for the Olay Total Effects Touch of Foundation on television lately and I have been curious about it but too busy to check it out. Yesterday I had a chance to.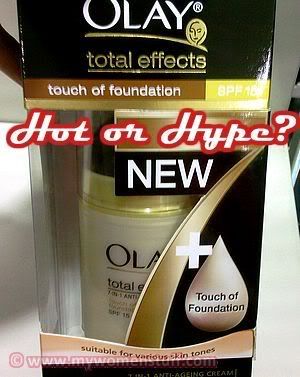 This is a new addition to Olay's Total Effects line. I liked the Olay Total Effects cream so I would expect this to perform the same way. Like the Olay Total Effects Cream, it is a moisturiser with 7 in 1 anti-aging therapies and SPF15. What makes it different is the addition of foundation.
Does this sound suspiciously like BB Cream to you? Moisturiser, check! Sunscreen, check! Foundation… check! 🙂
What truly intrigued me was the blurb on the box that said that the foundation comes in 1 shade that will "blend to the skintone of most women". Fascinating! A one size fits all in cosmetics – unheard of.
Unfortunately, there was no tester available – why on earth do they do this? A tester would go so much further to encourage sales. So I had to regretfully pass on this one until I find a tester – I'm curious about the one size fits all foundation bit. No other brand or product I know of makes this claim.
Have you tried the Olay Total Effects Touch of Foundation? Was it hot or hype for you?
Its Saturday and I have a full day of activities lined up – whee! 😀 Have a great weekend everyone and…
Stay beautiful!
Paris B