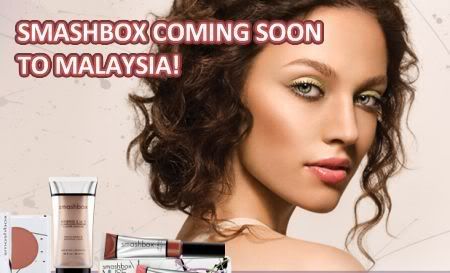 A little birdie hopped on my shoulder and whispered in my ear that Smashbox Cosmetics will be coming into Malaysia soon!
I'll bring more news as and when I hear of it. Ooh… exciting! 🙂
The only product I've tried from Smashbox thus far is their Fusion Softlights blush. I got them in Dimension and Gossamer.
Dimension turned out too warm for my colouring – its a lovely warm peach with shimmer – and is now residing with someone who will love it more than I ever can.
Gossamer is a slightly cooler toned blush with pink tones. The stripes look lilac and purple but swirled together, it applies a lovely cool-warm pink. You have to be careful not to over do it though. I found the pigment light and sheer so it isn't too hard to control. Also, the shimmer wasn't overboard – just enough to highlight your cheekbones.
I'd be keen to try more from Smashbox in future, especially their celebrated primer. Have you tried anything from Smashbox Cosmetics? Is there anything you are looking forward to trying?
Update: Smashbox Cosmetics is now in Malaysia!
Stay beautiful,
Paris B