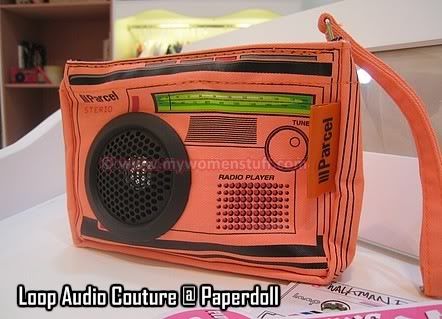 Is this a clutch or a walkman? Is it a bag or a toy? Sure, it looks like a walkman but can it play music?
Answer: Yes it can and Yes its a bag too!
When I first saw these bags at Paperdoll boutique, I was so taken in. They look a little ghetto and a little kitsch but they are oh so cute! What they are are the Loop NYC Audio Couture bags.
They are printed sturdy canvas bags that look like boom boxes with working speakers. Simply plug the jack provided in the bag into your iPod or MP3 Player and blast your favourite music from the speakers. Of course, play nice music so you don't assault the ears of those around you 😉

There are 3 sizes available in bright colours as befits a bag of this nature – clutch walkman (RM180), handbag Mini Boombox (RM250) and weekender Ghetto Blaster (RM350).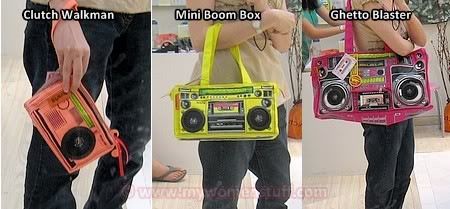 The clutch slings around your wrist with a sturdy canvas strap while the other 2 bags can be slung from the shoulder. The material is thick and sturdy but the bag is surprisingly not very heavy at all despite its looks. The bags zip shut with a strong plastic zipper and have a cute rubber pull tag in the shape of a music note. There are also hidden zips inside.
The speakers do take up some space but no batteries are required – just think of them as extended headphones of your iPod or MP3 players. So the music goes as loud as your iPod or MP3 player goes. Despite the space taken up by the speakers, there is still space in the bag for you to put your essentials. The large bag especially can hold quite a lot – enough for the weekend away.
In store, Paperdoll has some exclusive Graffiti style speaker bags too.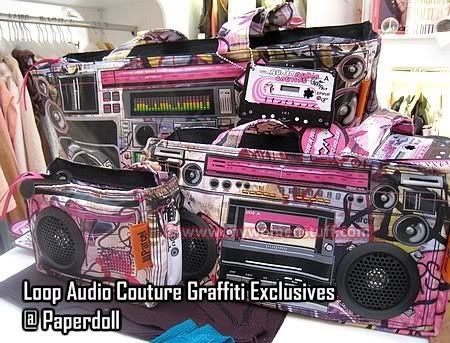 The sizes are the same but the design is a heck of a lot funkier than the usual plain ones. Guaranteed to turn heads anywhere you go.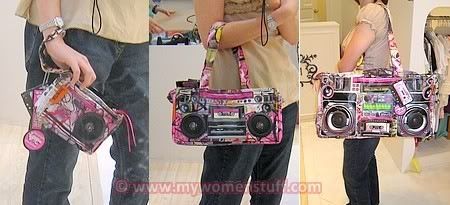 The exclusives are priced slightly higher at RM190 for the clutch, RM280 for the handbag mini boombox and RM380 for the weekender ghetto blaster.
Personally, I'm more into the clutch (RM180). Its small and its enough to fit the essentials for going out – lipstick, small wallet or credit cards, keys some money and ID – plus it doesn't make me look like I'm trying too hard to look young; yet makes me look a little hip 😉 Besides, tangerine orange is delish!
The Loop NYC Audio Couture bags are available exclusively at the Paperdoll store or online. Paperdoll ships internationally.