One trend I've never really cottoned on is the tights or legging phenomenon. For some reason, it harkens back to the 80's when big T-shirts and leggings were the norm everywhere, from aunties going to the wet market, to girls going out to clubs. I myself have been guilty of the tights phenomenon then and I swore never again!
That's not to say that tights or leggings do not thave a place in fashion – they do – they are really cute with short tunic tops and they allow you to get away with wearing short dresses. I do prefer tights as opposed to leggings – one goes all the way like opaque stockings while the other cuts off at the ankle. If you are short, you might want to avoid leggings that stop at the ankle because it cuts your height down. Instead, stick to solid coloured tights that cover your feet to add an illusion of height.
However, I cannot help wondering if Angelina Jolie might have taken tights/leggings too far when she flashed her legging clad legs on the red carpet at the recent BAFTA awards.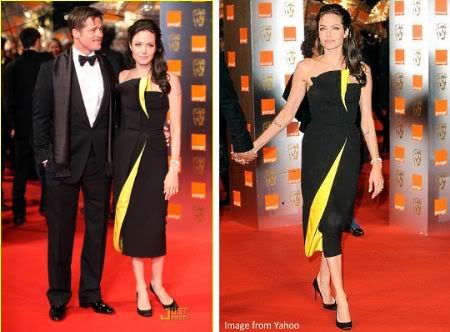 In contrast to her blouson blue dress that had critics up in arm, she received nothing but praise for this black and yellow Armani Prive dress. It looks great on her but when I saw the second picture, I did a double take – was that LEGGINGS she was wearing under the dress? Why?? I did not think the dress went up too high to be obscene. Is being a 6 time mom making her a prude so that a bit of leg is taboo?
What do you think? Do leggings or tights have a place on the red carpet and especially, with a designer dress?
[poll id="14″]