I'd had the opportunity to test the new Lancome Oscillation mascara recently and later, while I was passing by an Estee Lauder counter, tested out their new Turbo Lash mascara. Both are vibrating mascaras and both were released for the first time about 6 months ago in the USA. This is the first time both brands have launched their vibrating mascaras here in Malaysia and the question is this :
In the battle of the vibrating mascaras, who wins?
Well, that's what I'm here to help you find out! 🙂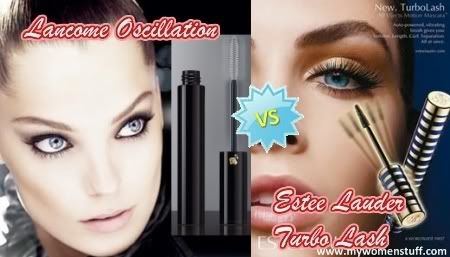 Lancome Oscillation Mascara (RM120)

The Lancome Oscillation Mascara comes in a nondescript looking black mascara tube. You can open it up and use it just like any normal mascara. The secret lies in the little button on the cap.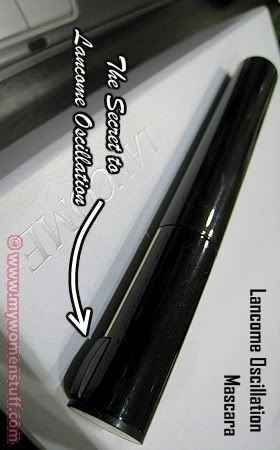 Press the button and hold it down and you will find a pleasant mild buzz on your finger tips as the mascara tip vibrates and oscillates to coat your lashes with mascara. Release, and the buzz stops.
What this does is allow for control. You can use this mascara like any normal mascara or you can press the button to oscillate the mascara head to order, to coat your lashes as thickly as you want and to give you the volume and length you desire. Or you can mix and match for maximum effect. I can personally vouch for length – the Lancome Oscillation mascara definitely adds visible length to puny lashes. You can also dispense with the zig zag motion as the oscillation takes care of that.
Lancome also says that you do not need a lash curler before applying the mascara as the oscillating head would help curl your lashes and the mascara will hold the curl. I cannot vouch for this because I already had mascara on my lashes when I was testing it out. Having stick straight lashes that cannot curl without a curler I would love to test this claim out!
The Lancome Oscillation Mascara launches in Malaysia in April 2009 but will go on presale on Feb 4 at Isetan KLCC by prior booking. Only 400 pieces are up for preview grabs and the mascara will retail for RM120.
Estee Lauder Turbo Lash Mascara (RM115)

The Estee Lauder Turbo lash too is a vibrating mascara. This comes in a sumptous looking gold and navy blue striped mascara tube that certainly catches the eye.
Unlike Lancome's Oscillation mascara, the Estee Lauder Turbo Lash wand starts to vibrate the minute you turn the cap open. The vibration is also quite strong as it is not only the mascara head that vibrates but practically the whole wand. To stop the vibration, replace the wand into the bottle and shut the cap.
I found that this automatic vibrating mechanism made it a little hard to control as the vibration was more intense than that of Lancome's Oscillation. You cannot see the vibration in either mascara – its vibrating too fast, but you can feel it and when you take a few minutes to put on mascara, your fingers can easily get numb with continuous vibrations.
Estee Lauder Turbo Lash too is touted as being able to curl your lashes without a curler. Again I could not test this claim out on my stick straight Asian lashes. It was volumizing though but I am told it is not waterproof nor water resistant.
The Estee Lauder Turbo Lash mascara retails for RM115 and is presently out of stock until March 2009 or thereabouts.
Lancome Oscillation or Estee Lauder Turbo Lash?
Having tested both vibrating mascara, I would pick Lancome Oscillation over Estee Lauder Turbo Lash for these reasons:-
I like the control over the oscillation or vibration that Lancome offers with the push of a button. It is less finger numbing and makes it easier to apply the mascara without being distracted by whether or not you will poke your eye out with a vibrating tip.
Lancome's formula is water resistent. I cannot bear panda eyes and it removes easily anyway.
Both companies claim that their battery operated wands can last up to 9 months – way beyond the lifespan of the mascara itself.
The difference in price is only RM5 and both mascaras are pricey anyway so price did not factor in my decision. If I only get one beauty gadget this year it will be the Lancome Oscillation mascara.
Have you tried either vibrating mascara? Which do you prefer?
Stay beautiful,
Paris B