I hope everyone had a good break during the Chinese New Year holidays. I certainly did! Traffic was a little crazy coming back to KL yesterday but with careful and patient driving, it didn't end up too bad.
When I went back to my hometown to spend Chinese New Year with my family this year, I took home a set of travel brushes from Momo Minerals that I'd purchased from Singapore through the help of a lovely friend. You meet the nicest people online, I swear! I first read about Momo Minerals' brushes from Vivawoman.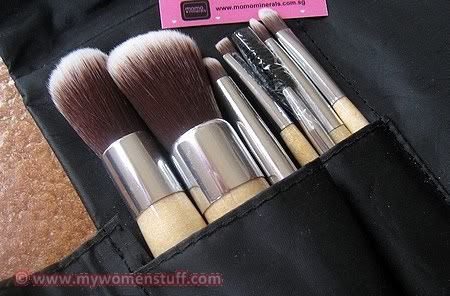 The set is very dinky and travel friendly, even coming in its own slim pouch that has a zippered compartment for storing some small makeup items or tissue. Its just a little larger than a lipgloss and not much thicker or bulkier and I really liked that.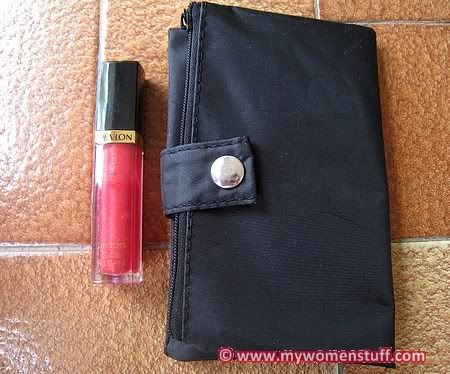 The brushes have very short handles and very soft synthetic bristles. I was a little concerned about the usability of the powder and blush brushes. They felt a little too soft and I was worried that the small head of the blush brush might result in clown cheeks.
I did not have much to worry about though. Whilst the blush and powder brushes are a little more floppy than I'm used to, they did they job. The powder brush was good for loose powder or touching up as it was light on the skin. I prefer using a sponge to apply powder foundation.
The blush brush picked up blush colour well and deposited and blended it well too. The benefit of a brush with a small head I've found is that its easier to get the blush just on the apple of the cheeks for a healthy pop of colour. I used Benefit Coralista throughout my trip and this blush brush did not over apply.
The other brush I used a lot of was the angled brow brush. Like Sesame I found it a little soft – softer than the Shu Uemura 6 OB Badger brush I'm used to, but it does give a softer more natural look to the brow.
The eye shadow brushes felt firm to the touch and I think they'd apply shadow well. I did not test them because I was using the new Dior Parisienne Lights palette and the colours are a little too light to use a brush for. The crease brush does look very promising though.
Whilst the black polyester pouch can get dirty easily from all the powder flying around while applying makeup, it is easy to clean and I liked the convenience of having a set of travel brushes where most of the brushes actually work and are so lovely and soft on the skin! The brush set costs S$35. However Momo Minerals ships only within Singapore so if you have a friend there who can order it for you, I think its worth getting if you do a lot of travelling or if you want an inexpensive starter brush set.
The 7 items in the pouch are:-
1 Blush Brush
2 Powder Brush
3 Crease Brush
4 Small Eyeshadow Brush
5 Angled Liner / Brow Brush
6 Eyeshadow Brush
7 Spoolie
I'm not sure what the spoolie can be used for but I reckon I'd think of something.
Oh and here's something that isn't quite beauty related, but amused me nonetheless – have you seen a PINK dragon?!

I was so amused I stood out in the hot sun snapping pictures like a tourist as the acrobatic performers made the dragon dance and twirl through the air. Amazing I tell you.. and even more so when its PINK! 😀
Stay beautiful,
Paris B