Courtesy of Julea of Asiatic Beauty, I received a bar of Pegaga body bar soap.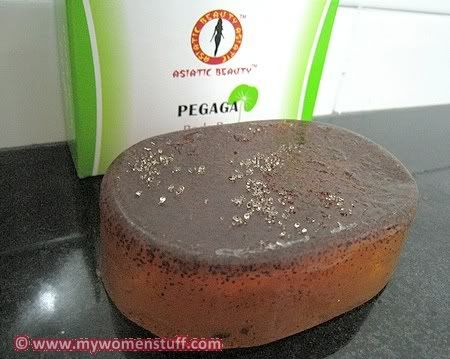 Pegaga (also known as Pennywort leaves, gotu kola, centella asiatica) is a herb popular in Malaysia for its medicinal properties and has a reputation for boosting mental activity and for helping a variety of systemic illnesses, such as high blood pressure, rheumatism, fever, and nervous disorders (Read more here and here) The Pegaga bar soap contains extract of pegaga leaves and is supposed to clean and condition, gently exfoliating without damaging the skin.
The Asiatic Beauty Pegaga bar soap is a largish translucent glycerin soap bar made with pegaga extract. What makes this soap bar a little special and out of the ordinary is the inclusion of ground apricot kernals into the soap. This transforms the soap bar from a mere cleaning agent to a scrubbing and cleaning agent. Quite clever!

I've been using the Pegaga soap bar for a while now and I found that like glycerin based soaps, it doesn't melt as quickly when used in the shower. It also lathers up well, and has a nice leafy herbal smell that I like. I find it rather refreshing.
I do find that using the soap bar directly on the skin can be a little painful due to the ground apricot kernals. So, I lather up (the hard bits loosen and get on my hands) and then gently scrub with the loose bits. That way its less painful. I thought the kernals were only on the surface but found that it is embedded throughout the soap bar.
The Pegaga soap bar comes in 100g bars and can last a while with everyday use. I tried using it on my face one time but found it too drying. It was slightly less drying on the body but still I felt a little skin tightening getting out of the shower. A bar retails for RM15.90 or US$5.95 and is available online and at selected stores. Look at the website for store locations.
Pros: Refreshing, cleans well

Cons: Ground Apricot too harsh for my skin

[rating:3.5/5]
Ingredients: Glycerin, Sodium Lactate, Prunus Armeniaca (Apricot) Seed Powder & Centella Asiatica (Pegaga) Extract