Paperdoll Boutique has been closed in early 2011
As a kid, I used to play with these paper dolls, where you could "wear" dresses on them with these tabs you would fold down to hold them in place on the doll. Anyone remember those? You could even design your own dolly fashion if you were so inclined and I never was.
It was these paper dolls and the fashion possibilities that kindled Joanna's love for fashion and when she decided to open her own boutique, she knew what she wanted to call it – Paperdoll!
What is the Paperdoll Boutique?
Paperdoll boutique is located at the new Tropicana City Mall. In fact, Paperdoll had started much earlier in 2008 with the launch of Paperdoll online – the online boutique, before taking it to a proper brick and mortar store. And what a store it is! Have you seen anything more adorable than the Paperdoll store front? It made me think of a whimsical little town with springtime flowers and sipping coffee while sitting on the sidewalk minding my pooch… not that I own one 🙂 It would not look out of place on Main St. USA, or Europe and this whimsical eye catching design is carried into the store as well.
Walking into the Paperdoll store is like walking into a closet or a best friend's room. Dresses are hung neatly on racks designed to look like cupboards and a shelf and table holds accessories and tank tops. What makes the shop unique to me is the personal touches that Joanna brings to the decor – prints, photo frames, souvenirs and knick-knacks from her travels… it all makes the place feel much like stepping into someone's home. There is a special promotion in store for My Women Stuff readers so be sure to read on till the end. 😉
Lovely dresses and accessories at Paperdoll
The Paperdoll boutique specializes in dresses. Dresses are their forte, with it forming at least 80% of their store stock. There is a small range of evening or cocktail dresses with a nice sheen to the material. There is one lovely black lace number that escaped my eye till I saw a girl try it on, and one particularly sultry number that would not look out of place on a catwalk or for an event where you KNOW you need to stand out and aren't afraid to bare some skin. Also, if you want to get a corset top – a proper lace up corset top that gives you that hourglass look – make sure you drop by Paperdoll. Her selection of corsets tempt me into trying one every time!
There are some cute casual cotton numbers as well as some sheer chiffon or silk dresses which you can pull off for a casual dinner party, or even semi-formal affair if you accessorize properly.
And accessories are another of Paperdoll's forte – be sure to check out their jewelry, which are at once whimsical and functional. A very cute number is an envelope locket which opens up to an "I love you" note inside. Very adorable and something that will definitely make a good gift 😉
Check out the Plus Size collection
A hidden gem in Paperdoll are their plus size collections. If you find it a pain looking for L-XL sizes of pretty dresses, head over to Paperdoll. Paperdoll makes it a point to carry a good selection of pretty plus sized dresses and tops that are not available in smaller sizes so our plus sized sisters can revel in wearing something uniquely theirs! I kid you not. I have been so sorely tempted by many of the tops and dresses at Paperdoll only to be told I can't wear them because they'd be too large for me. Words I'd be happy to hear at any other time, but not words I like hearing when I like the item! 😛 Still, I like the concept and I hope it never changes.
Also, if you meet Joanna, she'll be able to tell you if the dress will fit you or what you could wear it with. She's good with that, so if you are in doubt, ask!
My purchase from Paperdoll
Paperdoll's owner, Joanna has become a good friend, and she tells me that there are only limited numbers of each item she carries in the store. I like that. It makes the dress or top you buy unique – like this one I bought from her store recently. I saw it and I knew I had to have it because it looked so southern belle! And its gone so ha! Mine's unique! 😛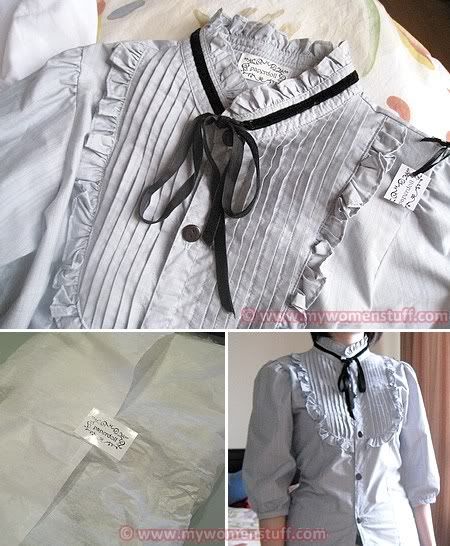 I liked that it was frilly yet buttoned up to there, so I can wear it for work and to serious meetings with a pencil skirt, instead of boring work shirts or I could even wear it with a long plain skirt if I wanted.
Your purchases are wrapped in tissue paper then closed with a paperdoll sticker before being placed into a paper bag – all little touches of luxury that lulls you into a sense of thinking that you are buying something terribly expensive, when in fact, you aren't.
Prices are Paperdoll are considerably affordable. My shirt top cost RM59.90 which I thought a decent price. The prices of dresses range from RM69 upwards and there is a very nice red velvet number in store that I've been eyeing for the coming Chinese New Year. Stock changes fairly regularly so if you didn't find anything the first time, come back again in a couple of weeks and you might find something you do like.
Paperdoll does cater to those who like something whimsical and girly so no serious looking work clothes, for now. What you can expect are tops and dresses that make you look quite sweet – think sweet girly girl or sexy librarian instead of boring staid corporate superwoman; so if you like that, Paperdoll boutique is for you! 🙂
Join the Paperdoll loyalty program
Paperdoll has something lined up that I will report on once I get news of it. I am as excited about it for a friend as she is, I'm sure 🙂 For now, join the Paperdoll Facebook group for updates, news and occasional discounts; and ask to sign up as a Paperdoll member with every purchase. It will entitle you to discounts and possibly gifts from time to time subject to terms and conditions.
PAPERDOLL & MY WOMEN STUFF SPECIAL PROMOTION OFFER

In conjunction with the opening of the Paperdoll boutique, Paperdoll and My Women Stuff have set up a special promotion just for My Women Stuff readers.
Paperdoll Special Promotion for My Women Stuff readers

Purchases of RM200 and above will entitle you to a free tank top and a 10% discount voucher off future purchases.
Purchases of RM300 and above will entitle you to a free tank top and a 20% discount voucher off future purchases.
* Please tell the sales person you were referred from My Women Stuff to qualify for this offer.
* In store Terms and Conditions apply.
* Vouchers have no expiry date.
* This promotion runs from now until 31 January 2009.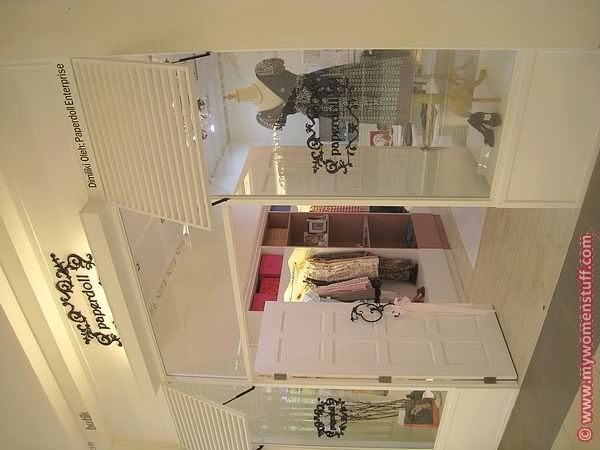 Paperdoll boutique is at Lot L1-43, 1st Floor, Tropicana City Mall (click for map to mall). From the concourse, head upstairs towards Borders. Paperdoll is next to Crocs and opposite TheFaceShop. They are cash only for now. You won't miss it – just look for the storefront above. The mall is also having free parking for now, so what better time to visit? 😉
With Chinese New Year just around the corner, and all of us needing new clothes to usher in the new lunar year, why not check out what Paperdoll has to offer, and indulge in some discounts. I'm already a regular there! 🙂