Givenchy is one of those big brands that I always overlook. I find their stuff pretty but never really pretty enough to like. Not this time! For Spring 2009, Givenchy is going for sensual dusky pink and orange for eyes, lips and cheeks with an Indian Sari inspired collection. I like the look on the model.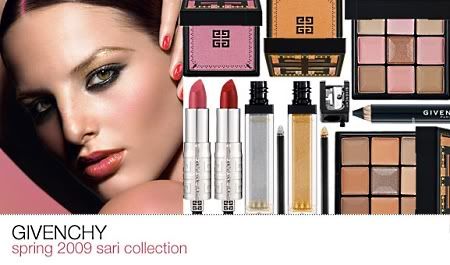 I'm more used to seeing hot fuschia pink when an Indian inspired collection appears, but the Givenchy Iridescent Maharani Pink blush described as luminous rosy pink, is bright and light and looks so pretty! There is also Maharani Orange which is described as luminous golden peach that I suppose would look good on someone tanned. I've since learnt that anything too peach makes me look like a pumpkin! 😛

Having owned one Givenchy blush, I'd place the blushes in the sheer category so maybe I'm not going to look like a pumpkin after all! 😉
For the eyes, Givenchy has 2 eyeshadow palettes in Prismissime Maharani Apricots and Maharani Pinks – a combination of shimmery and matte shades in 9 colours. From experience, these tend to be on the sheer side and can be used for eyes and face so you don't really need the blushes if you have these.
There are also glittering gel eyeshadows which I reckon are cream shadows, a kohl pencil and 2 Givenchy Interdit Rouge satin lipsticks. I love both colours – Maharani Rose (deep vivid rose) and Maharani Henna (warm brick red) – sounds like my sort of colours! I have owned a Givenchy lipstick though a few years ago – I found it a little too dry and fragrance was a little too strong even if the colour (a deep red) was gorgeous. I wonder how these would fare.
Finally, Juicy Couture has come up with a lip gloss heart pendant to declare their love for Sephora – just in time for Valentine's Day if I don't say so myself! It came out around Christmas but it would sit well for Valentine's too. Like Dior jewelry collections past, the Juicy heart shaped locket opens up to reveal a light pink lipgloss and a little mirror. Use it up and you can wear the pendant as a Juicy Couture accessory. At US$78 its not cheap but collectors would swoon over this one anyway.
Its the weekend again! Hurray!
Stay beautiful,
Paris B