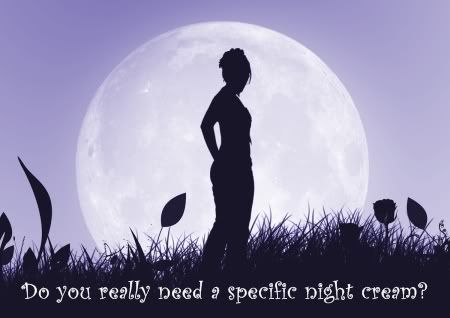 Is night cream a necessity or is it just a marketing ploy to make us women buy more products than we really need? That, ladies is my point to ponder for the day 🙂
Could we not just use one cream for both day and night? After all if you look at the instructions on the labels or box your creams come in, you will notice that some creams or lotions say that you can use it day and night. So, why is there a market for night creams?
We have been bombarded in the media telling us that we need night creams which are richer to protect and nourish our skin as we sleep. In many cases, you will find that night creams do have an oilier and heavier feel to them. Most brands from drugstore or pharmacy brands to high end department store brands will have day and night versions of the same cream purportedly to address different concerns. In many cases day creams will (or should) contain SPF sunscreen while night creams don't.
On the other side of the fence are those who say that all you really need at night is a good night's sleep to help rejuvenate your skin. You don't need fancy creams, not even a basic moisturiser. You should put nothing on your skin and let it breathe.
Personally, I feel that its part marketing ploy and part women's vanity.
We don't want to get sucked into the hype but there's always that niggling thought "What if I don't and I look like an old hag while others my age look 10 years younger? I mean, I know it is partly genetics, but what if…" 🙂
On a personal note, I don't use a dedicated night cream, but I do use different creams for the day and the night. In the day, because my Eucerin suncreen fluid works well as a moisturiser, I don't have to use a separate moisturiser. However, I won't use it at night, because it contains SPF. The jury is out on whether using SPF at night is bad for your skin, but I just feel its unnecessary and a waste of sunscreen when there is no sun to be screening against.
In the night, I used to use the Lancome Primordiale Nuit which is truly truly awesome but my wallet hated me for spending so much on it! I was also using the Olay Total Effects (without SPF) but I'm presently using a basic moisturiser in the Eucerin Hydro Balance cream. Its cheaper than the Lancome and it does its job of keeping my skin moisturised at night. Once that's finished I might look to something else or I might stay on… I'm not sure – I'm fickle 😛
I am not a proponent of not using any moisturizer at all, for 2 reasons:-
I wear makeup in the day and I clean my skin thoroughly at night to remove traces of makeup. My skin thus feels slightly dry after cleansing
I sleep in an air-conditioned room and air-conditioning is drying to the skin.
However, if you feel it works for you, that's great.
So, my answer to the question of whether one really needs a special night cream is no, you do not. Any old moisturizer will do. If it works for you in the day, there's no reason why it should not work for you at night. After all, its not like your skin will know when its day and when its night! 🙂 Sometimes because night creams tend to be heavier and oilier you might even find your skin reacting and breaking out from using it.
That said, if you are using a dedicated night cream and you like it and it works for you then don't stop just because others say so. We are all different people with different skin needs and that is why there is always a market for beauty products! 😉
What are your thoughts? Do you use a dedicated night cream and do you think it is necessary?