Tipped off by Beetrice I toddled off to investigate the new Bobbi Brown Sparkle Eyeshadows. The picture looked so pretty especially Mica described as Deep Heather Grey Glitter. Glitter didn't sound so good, but deep grey did.
Here are the swatches I got:-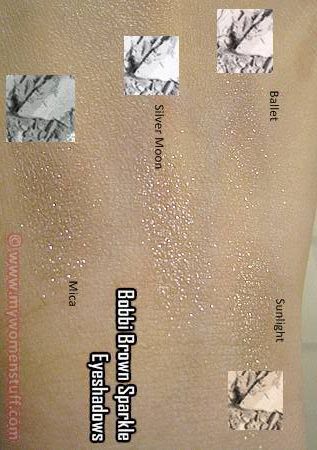 The pictures in the boxes are taken off the Bobbi Brown site. There are 4 limited edition sparkle eyeshadows:-
Mica – Dark Heather Grey Glitter
Ballet – Light Pink Glitter
Silver Moon – Light Silver Glitter
Sunlight – Warm Gold Glitter
On the back of my hand it was just glitter, glitter, glitter and glitter!

The Bobbi Brown sales person applied the colours on the back of my hand with a brush. She explained that customers are not allowed to swatch the colours with their fingers as the texture of the eyeshadow is very soft and oils from the fingers can cause the colour to harden. I saw that the Ballet shade was already demonstrating this in the pan.
In the pan there is more differentiation between the 4 colours. On the skin, nothing. So, if you want to get a sparkle eyeshadow, I'd say just get it to layer OVER regular eyeshadow for oomph and don't waste your money getting one of each. The Sparkle Eyeshadows are limited edition and retail for RM75. They fit into the square Bobbi Brown palette.
I was more captivated by the Bobbi Brown Party Metallics eyeshadow collection which is a collection of 6 new metallic colours.
I found these much more pigmented. The colours in the squares are extracted from the site to compare with swatches. I only swatched each colour 1-2 times which is approximately regular usage. The colours in the pan look very jewel toned and strong but when swatched are less pigmented. They are nice though and worth getting if you like strong colours with metallic tones. They retail for RM70 as part of the regular line of eyeshadows.
Bobbi Brown has absolutely disappointed me with the Sparkle Eyeshadows. Have you tried them? How do you feel about them?
Stay beautiful,
Paris B