While I was in Isetan yesterday, I happen to come across the Shiseido counter and stopped to take a look. I have never really been a fan of Shiseido makeup, mostly because I'm allergic to the eyeshadows from Shiseido The Makeup line. For some reason, Maquillage has never really grabbed my attention much.
But this time it did.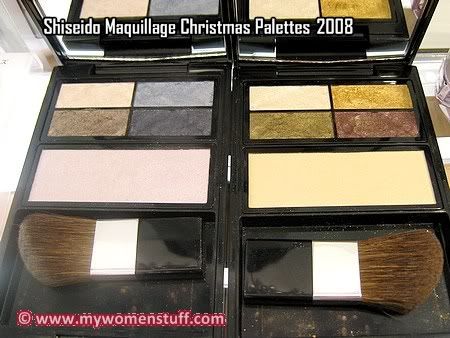 These are Shiseido Maquillage's offering for Christmas 2008. An eyeshadow palette with 4 colours and a highlighter designed in collaboration with Christopher Kane, British fashion designer. The blue set is Princess Tiara (black case) and the Gold set is Noble Glamourous (gold case) – names that don't mean anything really.
Each decorated case comes with the eyeshadow inserts packed separately, and you can insert it yourself. Not quite sure why this is so but there you go. Kanebo Lavshuca did it with their Summer Gradually palette and I recall Majolica Majorca has done the same too. I just did not quite expect it of Maquillage which is priced higher than the other 2 brands.
That aside, I must say that I was positively blown away by the texture of the eyeshadows. Each set comes with 4 eyeshadow shades from light to dark and one large pan of highlighter. The highlighter in the blue set (a pale pink) is very pretty and sparkly while the gold one is less so.

In terms of texture, the 4 eyeshadows were buttery soft and super pigmented. I loved the colours! They were so shimmery and gorgeous going on my hand I was tempted to buy them there and then 😛 I didn't of course, but I thought of it. The highlighter on the other hand, felt hard and dry. If the shadows were sold separately, I might have walked out of the store with the blue palette in a heartbeat! Or maybe even the gold one 😛
Which brings me to my little rant. The eyeshadow palette is not sold individually – not in Isetan Malaysia anyway. I'm told that its just been launched in Isetan and will be available at other Shiseido counters soon but I was also told that they are only sold as a coffret set (pictured below) for RM213 so there is no price available for the eyeshadow set. If anyone can confirm otherwise, it would be awesome.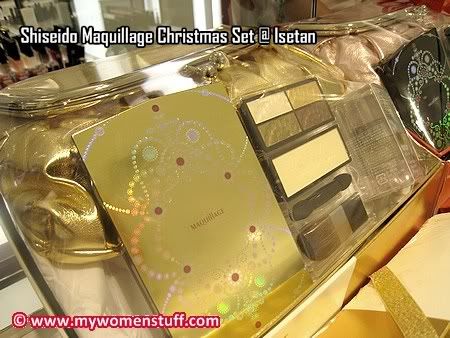 The coffret set contains 1 eyeshadow palette, 1 Dramatical gel eyeliner and a decent metallic clutch. The Dramatical gel eyeliner comes with a brush and are special limited edition colours. This whole collection is limited edition.
In Japan, the eyeshadow and highlighter palette retails at 4200 Yen (RM164). The Dramatical Gel Liner retails at RM75 (if I recall correctly) and eyeshadow palette is a special set so there's no price attached to it. The usual 4 colour eyeshadow palettes retail at RM112. If the 4 eyeshadows were available (without the highlighter and in slimmer packaging) as a set separately, then I'd say its a winner on all counts. As a set with other items and priced at RM213 I find it a little too pricey.