On my last trip to Singapore, I picked up a Sana Ho Jun Ki Royal Jelly Cleansing Oil from Sasa. I have a penchant for trying out new cleansing oils of the low end variety even if I know full well that my holy grail is the Kanebo Blanchir Make Off Conditioner, which is the cleansing oil from the Kanebo Blanchir line. Still, I can't stop myself experimenting.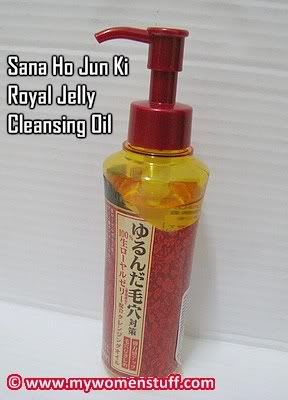 Anyway, I picked up the Sana Ho Jun Ki oil cleanser because I was intrigued by the fact that it is supposed to contain royal jelly. Also, the packaging looked pretty, even if I later found out that it was just the printing on the label.
There is no fragrance in the Sana oil cleanser so that's good. However, a quick perusal of the label on the back of the bottle stopped me in my tracks a little. The label clearly stated that the Sana cleansing oil contains mineral oil. Now, we know that mineral oil can irritate many people's skin so I was quite wary.
With cause too, because after 3 days of using the Sana Ho Jun Ki oil cleanser, my skin went crazy. I started having breakouts all over my face, and lots of raised bumps. As I am now very aware of my skin and the products I use, I immediately stopped using the Sana cleanser and within 2 days, my skin was back to normal. Thinking it might be hormonal, I tested it again after 2 weeks and boom! crazy bumpy skin after 2 days.
So, that's S$19 down the drain for me, literally! I cannot say if its the mineral oil or the royal jelly that's causing the breakouts for me, but I'm not going to try this a third time! So, I now have a barely used Sana cleansing oil sitting in my bathroom, mocking me. Sigh…
In terms of usage, I use the Sana oil cleanser the same way I use all oil cleansers – with dry hands and face, and by slowly emulsifying the oil with water to wash off. (read my tips for using cleansing oils effectively in a previous post) To its credit, it does wash off well. But because it brings bumps to my skin, I'm binning this one.
I have seen Sana products being sold in a little store in MidValley Megamall, near the Little Penang Cafe. Its a small empty looking store with a few shelves of products and some clothes. There are many products from Taiwan and Japan and one of it is Sana and yes, I've also seen the Sana Ho Jun Ki cleansing oil there.
Pros: No fragrance, inexpensive

Cons: Broke me out, contains mineral oil
[rating:1/5]