The Revlon Colorstay Mineral Lipglaze is part of Revlon's Mineral makeup collection. It comes together with the Revlon Colorstay Mineral foundation, Mineral blush and Mineral eyeshadow. I've tried mineral makeup for all parts of the face before, but never a mineral based lipgloss, so the Revlon Mineral Lipglaze is my first.
The colour I have is Infinite Rose, which is a shimmery cool toned rose-berry shade. I thought it looked a little dark in the tube, but it actually applies quite nicely. I am familiar with Revlon's lipglosses, having been a great supporter of their Superlustrous Lipglosses for a long while. I like how they are so glossy yet not sticky since by now most of the regular readers will know that I'm not one for sticky lip glosses.
So, I had a lot to expect from the Revlon Mineral lipgloss and I was pleasantly surprised.
The colour of the lipgloss is pigmented. So pigmented that I'd safely say its close to a liquid lipstick more than a gloss. The swatch on the back of my hand is the mineral lipglaze swiped just once. Yep, its THAT opaque and pigmented!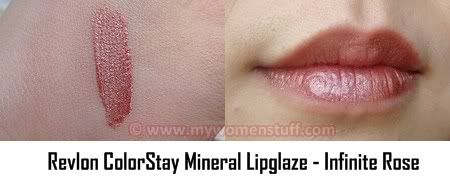 On the lips however, it does sheer out a little, and the color Infinite Rose is a perfect match for my lips. I like how its shimmery yet it doesn't leave bits of chunky glitter on your lips and it surprisingly lasts although its not sticky. It lasted through my morning coffee anyway – something no lipgloss does without being super sticky.
I might even go so far as to say that this is an affordable version of the new Laura Mercier Lip Velvet liquid lipstick! I kid you not. I tested the Laura Mercier Lip Velvet and the difference between that and Revlon's Mineral Lipglaze, other than the price is that Laura Mercier's is more opaque and matte and Revlon's mineral lipglaze is slightly sheerer and more shimmery. I prefer the texture of Revlon's Mineral lipglaze.
There is however, one drawback. The Revlon ColorStay Mineral Lipglaze has a strong scent. I find it similar to the scent of the SuperLustrous lipgloss but slightly sweeter. If you don't like strong scent in lip products, then the Revlon Mineral lipglaze is not for you. However, if you have used the Revlon Superlustrous lipglosses then you may be tolerant of the scent in the mineral lipglaze. I did find that the scent dissipated after a little while if its any consolation.
Scent aside, there is one thing I like about the Revlon Mineral Lipglaze that I don't quite like about the SuperLustrous lipglosses. The Revlon mineral lipglaze doesn't leave my lips tingling while I get a tingling numb feel sometimes when using the superlustrous ones.
I'm no expert so I cannot tell if the ingredients are fully mineral based but it being a commercial brand, I'd reckon there is a mix of ingredients in this lipglaze.
The Revlon Colorstay Mineral Lipglaze retails for about RM33 at most Revlon counters and goes on sale often. If you can get over the scent, the colours are gorgeous and they are a great alternative to lipstick! Also, if you have been eyeing Laura Mercier's Lip Velvet but balking at the price, then try the Revlon mineral lipglaze to satisfy your craving for a liquid lipstick. I'm eyeing the coral one myself 🙂
Pros: Pigmented, Not sticky, Lasts, Inexpensive

Cons: Strong sweet scent
[rating:3.5/5]