After the Christmas frenzy over the last couple of days, we are back to our regular scheduled programme on My Women Stuff which is reviews and beauty stuff. Today, we focus on the body and this product just happens to be in one of the gift packs 😉
Its been roughly a month since I first started test-running the Garnier BodyLight Brightening Exfoliating Scrub and BodyLight Whitening Hydrating UV lotion and I think I'm ready with an informed opinion on the product.
The Garnier BodyLight Brightening Exfoliating Scrub and BodyLight Whitening Hydrating UV lotion are new body care products by Garnier and have just been launched here in Malaysia. They are easy to spot in the pharmacy, with their bright cheery yellow bottles which is a nice change from the regular white bottles that body care products come in. I wrote about the product on an earlier post about the new Garnier Bodylight Scrub and Lotion.
Garnier BodyLight Brightening Exfoliating Scrub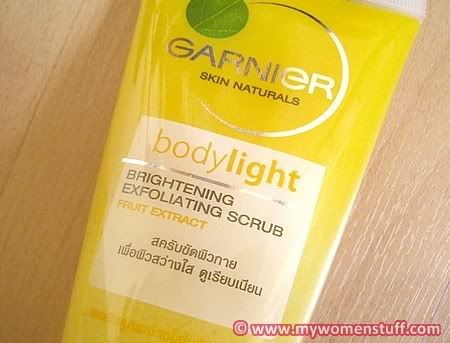 The Garnier Bodylight Scrub comes in a tube which is handy in the shower. The product looks rather like a yellow gel when squirted out of the tube, but do be warned that you don't need much. It doesn't look like there are any grains in it unlike most other body scrubs. I'm used to those with apricot kernals or ground bits of seed in it, but you don't get that in the Garnier. What you get is hardish granules which I'm informed is sugar (it doesn't attract ants though).
When rubbed on the body, the translucent yellow gel turns white and you can feel the hardish granules on the surface of your skin. It dissolves as you go along and I always take care never to rub too hard but as Garnier uses sugar as their exfoliating ingredient, I find that it does not scratch your skin unlike apricot kernals. A good rigorous scrub of the skin in the shower is enough to leave you with lovely soft skin when you step out, with a lingering scent of lemons.

It is recommended that you use the scrub twice a week. I used it about 2-3 times a week and a tube will last you about 1.5-2 months. However, for this one month, I found that the skin on my arms and legs were smooth and nice, with no rough bits especially around the elbows and knees. The Garnier Bodylight Exfoliating Scrub retails for RM19.90 for 200ml.
Does it brighten?
To a degree, yes. After using it, you do find that your skin looks brighter and more even toned. I attribute this to the exfoliation of the dead skin cells which can leave your skin looking dull. The nice thing is that the scrub has a lovely lemon scent and leaves your skin feeling soft and smooth and preps it nicely for the body lotion which follows.
Garnier BodyLight Whitening Hydrating UV lotion
This lotion is the follow up to the exfoliating scrub. Used on moist skin after a nice hot shower, I find that this light lotion sinks right into the skin quickly and without any sticky feeling. The non sticky feeling is very important to me because on tropical evenings, when the air can get humid and heavy, a sticky film on your skin is the last thing you want after a shower.
The lotion is thin and milky which some people may not like. However, I don't mind it. It also has quite a strong lemon scent that lingers on the skin. Used on moist skin, it sinks in well and leaves the skin feeling soft. Used together with the Exfoliating Scrub my skin feels lovely and smooth and it has been for 1 month now.
It is recommended that you use the lotion twice a day. I only used it once a day, in the evenings after my shower because I found the lemony smell too strong for day. It is however, rather comforting at night. The 250ml (RM19.90) bottle lasts more than 2 months with daily use. There is a larger bottle that retails at RM23.90.
Does the Garnier Bodylight Scrub and Lotion Lighten Skintone?
The million dollar question.
After 28 days, has my skintone lightened after regular use of the Garnier Bodylight body scrub and lotion? I can't quite answer this question.
You see, I am pretty fair as they come. If my skintone were to be any lighter, I would be ghostly white. I tried to use the skintone ruler to measure the skin tone but I couldn't get a decent enough picture and I couldn't identify which colour tone I was.
However, I can attest to a more even, brighter skintone and smoother skin all over especially on my arms. In some ways, you might say that the skin on my arms have "lightened" because they now look brighter and not dull. The regular exfoliation of the skin helps to get rid of the dead skin cells and the lotion keeps the skin moisturized. My mum made a passing mention of how smooth my shoulders were about 2 weeks into my testing period, so I was quite pleased about that.
I'd use the Garnier Bodylight Scrub and body lotion for exfoliating and moisturizing the skin and keeping it smooth. If it lightens the skin (and you like that) it would be a bonus. However, if you are looking for something that specifically lightens your skin I'd hesitate to say that this is the product for you.
Pros: Exfoliates, Leaves skin feeling smooth and nice, Lovely lemon scent

Cons: Did not exactly whiten, lotion is a bit thin which might put some people off
[rating:4/5]